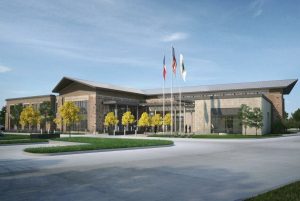 Flower Mound's new town hall got the green light from council members on Monday night.
The request for a Town Hall Site Plan and a Construction Manager at Risk Agreement with Steele Freeman to construct the new building with a maximum cost of $15,740,744 (just under the $15.8-million budget total), were both unanimously approved.
"A lot of exciting times ahead," observed Doug Powell, executive director of Development Services.
The approved site plan for the 46,000-square-foot building features an architectural two-story design with double the current council chamber and other public spaces on the western side of the interior, while staff space and offices will occupy the eastern side; separated by an open lobby-style entrance accessed from north and south entrances.
In her presentation, Assistant Town Manager Debra Wallace said the new facility will house both the current Town Hall 61 staff members, as well as those who office at The Atrium, for a saving of $300,000-per-year in rent.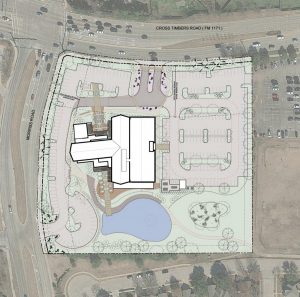 She added that offices in areas of expected future growth is included, in addition to second-floor expansion space, if needed in the future. The new town hall will also provide more meeting space room, storage areas and an emergency command center, in the event of weather or other crisis situations.
The majority of council discussion involved the two water features located at each entrance. The north entrance pools will be adjacent to a Veteran's Memorial, while the south entrance pools will provide an additional buffer to the southern neighborhood, as well as a more aesthetic view from Morriss Road.
Councilman Jason Webb pointed out that: "The south is the least used walked-in entrance."
However, Wallace pointed out that it's the drive-up payment entry and is also where special events and staff functions will be held.
In keeping with the new Town Hall's LEED Certification for "green" lighting and landscaping, Council member Bryan Webb asked about electric car-charging stations. Wallace replied that additional amenity should be able to be financed through specific grants.
Construction is set to begin by the end of the month. Wallace said construction is expected to last 15 months, plus an additional three months for demolition of the existing building for the construction of new parking spaces.