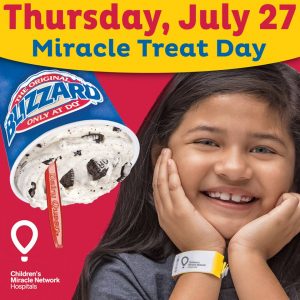 Just once a year, Dairy Queen is encouraging folks to "eat dessert first" for a good cause. Miracle Treat Day is Thursday.
For every Blizzard ice cream treat bought Thursday at participating Dairy Queen restaurants — including two in Flower Mound — the fast food chain will donate at least $1 to local Children's Miracle Network Hospitals.
Since 1984, Dairy Queen and Children's Miracle Network Hospitals have partnered to provide life-saving treatments to kids from across the U.S. and Canada, raising more than $125 million through donations from customers and franchisees, according to Dairy Queen.
For more than 10 years, Dairy Queen has put on Miracle Treat Day, which raised more than $4 million for Children's Miracle Network Hospitals across North America.
There are two participating Dairy Queen locations in Flower Mound — 1909 Justin Road and 2000 Long Prairie Road — and there are several others in nearby Lewisville, Denton and Roanoke. Click here to find the location nearest you.
Click here for more information about Miracle Treat Day.