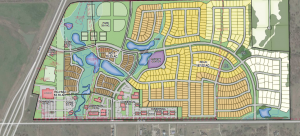 The applicant for a proposed residential and commercial development in Argyle will host a meeting on Wednesday, July 19 to provide information and listen to residents' questions and comments.
The zoning application is posted on the town website, and the map of the proposed plan shows a large development on the northeast corner of FM 407 and Interstate 35 W. The 333-acre proposed development extends north to Sam Davis Road and east to just past Birch Court.
Much of the development is dedicated to nearly 700 residential lots — some small patio homes, others much larger — with several ponds and parks throughout, as well as a large amenity center.
There are also 20 proposed commercial buildings along the south and west sides of the map. They vary in size from 1,800-square-feet to 57,000-square-feet.
The July 19 Program for Argyle Community Engagement meeting is scheduled for 6 p.m. in the community room at Argyle Town Hall. The applicant, real estate developer Terra Manna, is hosting the town hall-style forum where representatives will give a brief overview or presentation and field questions from residents and hear their concerns. No action will be taken.
Argyle Mayor Donald Moser posted a video on Wednesday afternoon addressing the proposed development: