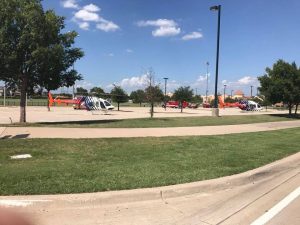 Two people were burned late Wednesday afternoon at a restaurant in The Shops at Highland Village and were flown by air ambulance to the hospital, according to Laurie Mullens, a spokeswoman for the city of Highland Village.
Mullens said at approximately 3:50 p.m. Highland Village emergency services responded to a burn medical emergency at Shoal Creek Tavern.
Upon arrival Highland Village paramedics found an adult male and female with major burns on their body from the waist up after the couple had received a flaming cocktail at the bar that spilled on them.
Careflite was called to transport the victims. Both were transported to Parkland Memorial Hospital with non-life threatening injuries.
"It was an unfortunate accident. The customers wanted a flaming drink and the bartender made it. The bottle somehow broke or cracked or the liquor somehow flowed out and splashed on the customers and the flame followed," said Shoal Creek Tavern owner Jim Verfurth.
Verfurth said he has been in the restaurant business for 40 years and has never seen anything like it.
"It was a really bad accident that I have never seen in my life."
Verfurth said the bartender was "tremendously experienced" and has won multiple awards for cocktails and drinks and "he really knows his stuff."