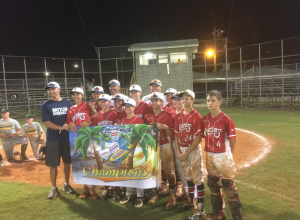 A Little League baseball team from Flower Mound won a World Series tournament late last month.
The 13&U Texas Rattlers – Kleinsorge recently qualified for the USSSA Global World Series in Gulf Shores, Alabama, by playing well in several tournaments in DFW and traveled to the World Series tournament in late June.
Despite a lot of delays because of Tropical Storm Cindy, there was just enough time for the 34 teams to play the tournament. The Texas Rattlers knew they were going up against other teams in higher playing level classifications, but rode a hot streak to the finals against the Louisiana Precision Baseball Club on June 24.
The Rattlers won 21-5.
"The final was a crazy win," said Rebekka Box, whose son Zane plays on the team. "We were on fire."
The Rattlers play in the Flower Mound Youth Sports Association's competitive select program in the AAA classification. They beat out teams in the Majors classification, which is a higher classification than AAA.