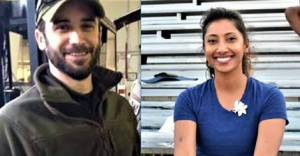 A husband and wife from Flower Mound were found dead of gunshot wounds in New Mexico, according to New Mexico State Police.
A New Mexico State Police officer was driving on Interstate 40 just west of Albuquerque about 9 a.m. on June 29 when the officer saw a blue pickup parked on the eastbound shoulder, according to a New Mexico State Police news release.  The officer stopped to check on anyone inside and found a man and a woman dead in the pickup.
They have been identified as married couple Jacob Kokotkiewicz, 31, and Ursula Tammy Kokotkiewicz, 32, of Flower Mound, according to the news release. Jacob was sitting in the driver's seat, and Ursula, also known as Tammy Rhea James, was sitting in the passenger seat.
Investigators found that both people apparently had a gunshot wound to the head, according to police. There was a handgun between Jacob's legs.
According to several media reports, the case has been ruled a murder/suicide.
Tammy was a Dallas ISD English teacher, according to media reports. Her Instagram account appears to show the couple went on a trip to visit national parks in Utah and were headed toward home when they died.
An online fundraiser has raised more than $22,000 as of Wednesday for funeral expenses for Tammy.