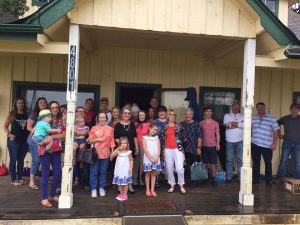 Dozens of descendants of William Gibson gathered recently at their ancestor's log cabin in Flower Mound, believed to be one of the oldest structures in North Texas.
"We've had so much fun with it, to be a part of history," said Elaine Economidis, a direct descendant of Gibson who lives in Flower Mound.
The log cabin was discovered by a North Texas developer in 2015. During the demolition process for the house located in west Flower Mound, the log cabin was unearthed. The house was built around the walls of the historic log cabin.
Historians have determined the log cabin property was part of a Republic of Texas Land Grant patented in 1854 by William Gibson, and built circa 1860. The original survey was for 360 acres and the cabin is a one-room structure measuring approximately 16' x 16' feet.
Soon after it was discovered, "I had read about it and thought it was very interesting, and didn't know the connection," Economidis said.
Economidis said she only learned of her connection to the cabin in March, when her son traced their family line in two ways back to Gibson on Ancestry.com. Economidis said she found that on her father's side, her grandmother's grandfather was Morgan Jane, a grandson of William Gibson. On her mother's side, Economidis said she found that her grandfather's grandmother was Matilda Jane, Morgan's brother.
Soon after learning this, Economidis began thinking of putting together a family reunion that included a tour of the cabin, which is being preserved by the town of Flower Mound and Denton County as a historical site. It is being renovated and not open to the public, but The Flower Mound Foundation was happy to give them a private tour.
More than 50 family members from across the state came on June 24 to tour the cabin, which most of them had never seen, said Mark Glover, a member of The Flower Mound Foundation board.
"We shared some of our research and told some of the stories we've uncovered," Glover said. "They were very pleased … it was an emotional time for them.
"It did my heart good to see them there, reconnecting with each other and the cabin."
There have been some open house events at the cabin that were open to the public, and there will likely be some more while it is still being renovated, Glover said. For more information, visit The Flower Mound Foundation website.