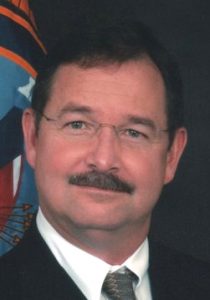 Thank you Dr. Ara Misassian for your service to the Town of Double Oak as a Council Member and as a representative on the police advisory board. The numerous hours you spent on helping develop long-term plans, preparing annual budgets, assisting with interviewing new employees and communicating community concerns are sincerely appreciated by every member of the police department.
Thank you Double Oak Volunteer Fire Department Chief Mike Ayers for your years of service as a leader and volunteer in our community. Your commitment to service and dedication to the firefighting profession are going to be missed.
Congratulations to Double Oak Police Officer Shaun Chelf on having accepted a position as a fraud and identity theft investigator for a major bank. Thank you for your four years of service to Double Oak!
Thank you to the Double Oak Women's Club and the Town for the overwhelming support, positive written messages and food during National Police Week.
A large number of Double Oak residents will be taking vacation this summer.  We offer vacation house checks (we do our best to conduct a daily check of your property and notify you, or your point of contact, if we find anything damaged, missing or suspicious).  Vacation house check forms are available in the Town lobby and/or on our department website at: http://double-oak.com/cms/wp-content/uploads/2011/03/House-Watch.pdf. It is extremely helpful if you provide us with a contact cell phone number and an up to date phone number for an alternate point of contact.
Other crime prevention ideas for consideration this summer include:
Install a Monitored Residential Alarm: A residential alarm can be a deterrent to a would-be burglar. Signage displayed in entry windows, an audible alarm when entry is made and an alarm company dispatch center will all assist with your crime prevention efforts. The idea is to deter or reduce the amount of time a criminal spends inside of your property. A loud audible alarm adds pressure to the criminal's decision making process as well as the certain knowledge that local law enforcement will be responding. It is very important that you practice activation and deactivation of the alarm with your family (generally done through a key pad) and then use the alarm on a daily basis. A seldom considered benefit of having the police respond, even if the criminal has left the scene, is that someone will be able to secure your property.
Wide angle peep hole: Don't open the door if you don't know who is knocking. Please call the police if you are suspicious of the unknown person's actions.
Lights and television on a timer: It helps to keep suspects guessing as to whether the house is occupied with lights and televisions on timers.
Door and window locks: A surprising amount of time windows and doors are left unlocked. Prior to leaving town it is worthwhile to make sure your residence is secure.
Foliage and lighting: Trimming shrubbery and ensuring that outside lighting is functional are both helpful in permitting your neighbors and the police department watch over your residence.
Don't hide a door key outside: Burglars actually look for a hidden door key.
Don't announce vacation plans on social networking sites: This seems to be basic common sense but it's worth asking your kids what they are posting on their personal web pages for the world to read. A significant number of residential burglars are youthful and tend to victimize neighbors and persons they know.  Having your kids provide information about your absence is a bad idea.
Have a neighbor collect newspapers, fliers and mail: Have a trusted neighbor keep your property free of newspapers and excess mail while you are gone.
Minimize the amount of mail you receive and shred the mail you no longer need: Reduce the amount of personal information sitting in your unsecure mailbox by conducting billing electronically or by obtaining a Post Office Box. Few things in life are more uncomfortable than filling out numerous theft affidavits, with your bank, after a box of checks or your identity is stolen.
Plan for an intruder, fire or medical emergency: You've probably talked to your children about what to do in the event of a fire. I strongly recommend you talk about and rehearse what to do in the event of an intruder.  Have a trusted neighbor (be sure to let your neighbors know your plan and rehearse!) as a location for children to run to in the event of an emergency.  Explain to your children that hiding and calling 911 from a cell or cordless phone is also an option.  Don't have kids trying to game plan their reactions during an emergency, give them a hand and make those decisions in advance.
Consider using a safe: Large safes are available for surprisingly reasonable amounts of money at local sporting goods stores. It can help your peace of mind, act as a criminal deterrent, and resist the effects of fire on personal property.  In general criminals don't want to invest the amount of time necessary to breach a quality safe.
Document personal property: Good for both fire and property crime claims it will pay off to take digital photos, maintain receipts and record serial numbers for valuable items. Please review your residential policy as often times it does not cover personal collections (like coins) or jewelry.  You may need a separate policy for unusual valuables.
Hide your valuables: I've yet to document a burglar going into a person's attic or spending much time searching the rooms of children. Hiding or storing jewelry and valuables in your dresser is probably a bad idea.  Burglars don't want to spend a lot of time in your house.  Make things a little difficult and they will move on to an easier target.
Park your car in the garage: If you consistently park your vehicle outside seriously consider removing the garage door opener. It is a simple thing to break into your residence once the garage door opener has been stolen.
Have a great summer and thank you for the opportunity to serve.
Recent Police Calls
Suspicious Activity – 100 blk. Villa Creek Drive, Double Oak – An unknown vehicle parked in the complainant's driveway at 10:11 p.m. and then the driver proceeded to ring the residence doorbell multiple times. Further investigation revealed that the driver was attempting to make a late delivery.
Suspicious Circumstances – 100 blk. Fox Trot, Double Oak – Resident reported an unknown female (possibly intoxicated), wearing a swimsuit and knocking on their front door at 4:44 a.m. demanding, "Let me in my house." Subject departed prior to officer arrival and was not located.
Animal Complaint – 100 blk. Chapel Hill Drive, Double Oak – Caller reported a deceased animal in a lane of traffic.
Meet Complainant- 8500 blk. Justin Road, Double Oak – Dispute about ownership of a vehicle.
Suspicious Activity – 200 blk. Meadowknoll, Double Oak – A resident reported an unknown black truck parked at their neighbor's house while the neighbor was out of town. Further investigation revealed a contractor working on an authorized project.
Solicitor Complaint – 100 blk. Double Oaks Drive, Double Oak – Vendor was going door to door without a permit.  A citation was issued.
Minor Accident – 300 blk. Waketon Road, Double Oak – A motorist backed into a parked car.
Traffic Complaint – 500 blk. Simmons Road, Double Oak – Report of vehicle speeding and running stop signs at 11:03 p.m.
Disturbance – 2600 blk. FM 407, Bartonville – Report of a disturbance in which one party was attempting to ram another person's vehicle after an assault inside a convenience store. Subjects departed before officer arrival.
Suspicious Activity – 200 blk. South Carruth, Double Oak – A witness observed a pickup truck, parked in the street, occupied by juvenile males at 2:52 a.m. Officer located the subjects and parents were contacted after it was determined that the male did not have a driver's license.
Suspicious Activity – 100 blk. Shady Oaks, Double Oak – A witness observed an unknown black car and adult male at her neighbor's home. Further investigation revealed it was an authorized contractor working on the house.
Harassment – 300 blk. Waketon Road, Double Oak – Complainant reported having threats communicated to them through electronic devices.
Welfare Check – 100 blk. McMakin Road, Double Oak – Report of an adult female standing on the side of the road at 11:47 p.m. Witness was concerned for her safety. Officer was unable to locate the subject.
Solicitor Complaint – 100 blk. Twin Lakes Drive, Double Oak – Vendor going door to door without a permit.  Citation issued.
Assist Fire Department – 200 blk. Simmons Road, Double Oak – Controlled burn observed in a yard on a no-burning day. Subject agreed to douse the fire.
Animal Complaint – Oakview and Timberleaf Drive, Double Oak – A resident reported a sick looking coyote. Coyote was gone before officer arrival.
Disturbance – 600 blk. Woods Drive, Argyle – Officer assisted Argyle PD with a loud party.
Suspicious Vehicle – 200 blk. Whistling Duck, Double Oak – A witness reported an unknown four door car parked on their street at 10 p.m. Vehicle was gone upon officer arrival.
Noise Complaint – 500 blk. Waketon Road, Double Oak – A witness reported lout traffic noise near their location. Officer only observed normal traffic for 2:08 p.m.
Barking Dog – 100 blk. Trailing Oaks Drive, Double Oak – Owner of the dog was contacted and she took them indoors.
Criminal Trespass – 8300 blk. Justin Road, Double Oak – Subject received verbal and written warning about trespassing at a business.
Suspicious Circumstances – 200 blk. Valley View, Double Oak – Officer observed an open door on a parked car for an extended period of time.
Meet Complainant – 6100 blk. Plantation Lane, Double Oak – A resident wanted to discuss criminal trespass warning for a known person.
Suspicious Circumstances – 1400 blk. Copper Canyon Road, Denton County – Teen male, who became confused after a night spent out partying, entered the wrong home and fell asleep. Subject was found in the morning by the homeowner and reported to police.  Homeowner declined prosecution. Male was released to his parents.