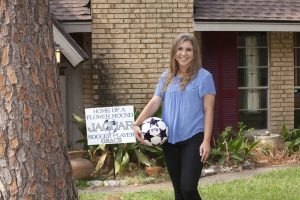 While her friends and most others her age enjoy a summer near home, 15-year-old Grace Blankenship will be in Africa playing a game of soccer on a well-known mountain and making the world aware of gender-inequity in sports that she's just old enough to understand.
It's all part of the Equal Playing Field movement co-founded by her aunt, Erin.
The Flower Mound High School freshman will be the youngest competitor of more than 50 from about 20 countries playing in a crater on Mount Kilimanjaro in Tanzania. The match is expected to set the Guinness Book of World Records for the highest altitude for soccer and will be filmed by a documentary team and TV crew.
"I'm kind of nervous, because I'm the youngest," she said. "It doesn't bother me, because these women are amazing people. They're probably going to be some of the most inspirational women I'm going to meet in my lifetime at 15. I'm excited to go and have that kind of exposure. And, even to see them play will be such a huge blessing; and, a once in a lifetime opportunity. I'm looking forward to meeting them and seeing how soccer has affected their lives."
Blankenship flies out June 16 to meet another aunt and grandmother in New York. From there they go to Amsterdam then to Tanzania.
On June 18, she and other participants start the five-day climb up the mountain, then take part in a full 90-minute, 11-a-side regulation game officiated by FIFA referees. They'll be watched by an altitude specialist medical team. After the game they descend down the mountain, then enjoy a three-day safari, before returning home July 1.
In July, participants and others will host soccer clinics in their home countries to teach and encourage young girls to play; including one in Los Angeles, which Blankenship is scheduled to attend.
"I'm excited about the clinics," she said. "The trek is kind of our big burst of letting people know we're out there and the clinics are where the action happens. It's hands-on in the present and joining people with our love of soccer."
Blankenship began playing soccer at age 4 or 5, about a year or two after moving to Flower Mound from Jackson Hole, Wy., where she was born. She played on two teams in non-competitive leagues, until around age 10, then decided to move to the competitive select-level starting with the Plano Premier League.
"That's when I found my love for the game and decided 'this is what I want to do,'" she said.
About a year ago, she switched to Triumph FC out of Trophy Club and Southlake and scored three goals. After being one of that team's older girls, she's trying out for something higher.
She usually plays center or outside defender including this year on Flower Mound's Junior Varsity No. 1 team, which lost only two matches.
"At the beginning [of the season] I played forward," she said. "I was up there, because I could run fast and get the breakaways. Then it started with others getting fast, too, and I could catch up. I got put back and I've been there ever since."
Like her niece, Erin Blankenship has been involved in soccer for most of her life. She played in college at Trinity University and professionally overseas. She now works in Jordan for a non-profit organization that helps educate the military on how to deal with the culture after being previously based in Afghanistan.
More than a year ago, she and friend Laura Youngson came up with the [event] idea and pitched it to sponsors and others, including Grace.
Blankenship said her aunt told her about the event in the summer of 2016.
"When she first told me the idea I was kind of astonished, because I didn't really think anything of it at first because I didn't understand it," she said. "As the months went on and she kept reintroducing things, I thought 'wow, this could be a really big thing.' I started believing in the cause more and realizing how many people it could affect. I realized the seriousness of it and from there tried everything I could to make it happen."
The Equal Playing Field movement will use the game as a way to bring awareness to the gender inequities worldwide, especially in sports.
"Women have fewer opportunities to play sports, get paid less when they do and don't get the same coverage or respect in the media," Youngson said on the event's website. "I don't want to be having this same discussion with my future children."
"This is the very beginning of a very long education for people on acceptance and breaking boundaries," said Blankenship's mom, Dawn.
With all the more experienced women playing, Blankenship will be happy to get a few minutes on the field in Africa. To make the trip happen, she has had to raise about $7,000. She's done so by contacting friends and family and executed plenty of social media outreach.
She also has a GoFundMe account at: www.Gofundme.com/climbing-mtkilimanjaro, where donations are still being accepted.