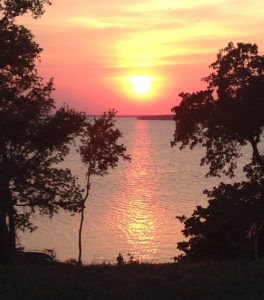 The "magic hours."
It's that ethereal time of day when the thermometer has begun its decline, the sun has started its descent toward the western horizon and the moon has started its climb in the eastern sky. A light breeze ruffles the leaves and the air feels … soft.
The atmosphere embracing the 30-acres designated as Lakeside Village in the northeastern corner of Lake Grapevine is a place where the memories of simple enjoyments can be remembered, or created.
Just sitting still and watching the sunset makes tense shoulders relax and everyday stress depart with an exhaled: "wow." It's a place that encourages the mind to just wander; a place of serenity surrounded by the cacophony of modern urban life. No thoughts about the day's work stress, deadlines, getting kids to after school activities, or anything else, intrudes.
Call those few hours– after rush hour and before deep nightfall– dusk or twilight; it doesn't matter. It's like "lollipop" versus "sucker" and "dinner" versus "supper." Or, as Shakespeare wrote: "A rose by any other name."
Back-in-the-day, when it was safe for kids to play in the neighborhood, they'd eat dinner/supper as fast as possible to get back outside to play games like "Kick-the-Can," "Red-Light, Green-Light," or "Hide-and-Go-Seek" until after the street lights came on. The future Lakeside Village harkens back to that more uncomplicated era.
"It's a really special place," said Richard Myers, managing director for Realty Capital Management and developer of Lakeside DFW. "We wanted to invite town residents and our neighbors here to come visit and give us their ideas for Lakeside Village. The Stewart family wants to keep the integrity of this place, but they also want to share it."
It was that mindset that prompted an open house held on the property last Thursday during the "magic hours" of 7 to 9 p.m.
"Right now, we haven't even met with our planners or anyone about this [Lakeside Village]," Myers said. "We're trying to get input, ideas, about what people are looking for here. Yes, of course we have some ideas, but right now we want to hear what people think; and, out of nine suggestions we get– that we already have on our list– there'll be a new one that makes us ask: 'why didn't we think of that?'"
He was standing on the second-story rear-deck of the property's anchor, the "Old House," built in 1905. From the top-story observation platform above the tree canopy, voices could be heard exclaiming: "wow," "look at that," and "oh, my gosh, what a view!"
Myers enthusiasm for the unique setting surrounding him wasn't limited to appreciating the incredible sunset view.
"Look at that natural amphitheater shape that slopes down toward the lake," he said pointing to a grove of trees. "It's got a natural shade canopy from the Texas sun in the heat of the day, with seating interspersed between the trees for people to view a stage for theatre or musical performances; with the lake behind that and the sunset as a backdrop; just incredible."
Walking south from the house toward the southern tip of the property's peninsula, covered concrete-slab picnic sites are scattered about the green open-space lawn, which is surrounded by massive trees. They prompt the question of: "how old do think this one is?" to be echoed.
It's not too much a stretch of the imagination to picture William Faulkner or Tennessee Williams with a paper notepad on his lap and a fountain pen in his hand, recording observations of an event– a past lifestyle now in a present setting.
A sense of timelessness envelops the area as nightfall deepens; as does the sound of the Texas-Bush-Katydids. Somehow, their racket is a song here.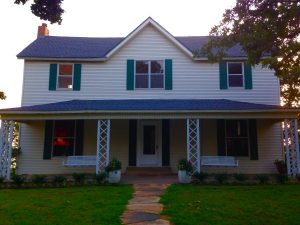 Answering questions from curious neighbors about the future development is Reality Capital's Managing Director Jimmy Archie. His excitement– talking about the potential six or seven unique restaurants to be built at the tip of the peninsula– is infectious.
"We're looking to attract the kind of restaurants that people will travel from Dallas or even farther away to eat at," he said. "There won't be a repeat of other area restaurants, or run-of-the-mill chain restaurants. Every restaurant will have a full lake view … it'll be spectacular."
He added that the earliest constructing the infrastructure might begin would be the summer of 2018, with vertical construction of buildings set for 2020.
"We recently acquired control of the 'Hines parcel,' which means that all of the 150-acre mixed-use Lakeside DFW development is under one developer," he said.
Having one developer, however, doesn't mean a one-approach for the development. The neon-style, high-intensity of the LED Lakeside sign will definitely not be part of Lakeside Village. Its ambiance will be best-lit by dark-sky lighting and twinkling little white lights in the tree canopy mimicking the flicker of fireflies as darkness falls.
"I've always wanted to get a peek inside the fence, but the gate's always been chain-locked," said Bettye Odle, a neighbor for the past 32-years. "I've always been curious and when I saw the invitation in the [Cross Timbers Gazette] paper, I couldn't wait. Walking through the 'Old House' and seeing the view of the lake from above the trees … well, it's everything I'd hoped for and more."
Like most people who were at the event, she summed it up by saying: "It's magic."