Annual Copper Canyon Fourth of July Parade – Tuesday, 7/4, 10 A.M.
Come join the fun!  Be in the Parade!  Decorate your car, golf cart, tractor, motorcycle, bicycle, or anything that moves!  Bring your kids and get ready to have fun!  Parade line up will be at 9:30 a.m. in front of Town Hall, 400 Woodland Drive.
If you don't want to be in the parade, join us on your front lawn and cheer the parade on!  Immediately after the parade everyone is welcome for hotdogs and drinks in front of Town Hall!  For questions call Carol Owens at 940-241-1455.
Construction on Woodlands Drive will be completed before the Parade!
2016 and 2017 Copper Canyon College Scholarship Donors
All scholarship awards were provided by donor donations.  The Town cannot legally give monetary donations to individuals from property taxes or other Town revenues.  Scholarship funding for 2016 and 2017 was provided by donations from current and former Council Members Steve Hill, Charlie Nicholas, Dave Svatik and wife Dale Svatik, Valerie Cannaday, Bill Castleman, Emil and Sue Tejml – and longtime residents Annell and Roy Bradford, and a kind and generous resident donor who prefers to remain anonymous.
Additional contributors are Brown & Hofmeister law firm through our Town Attorney Terry Welch; Halff Associates, our Town engineering firm, through engineer Brian Haynes and consultant Jim Carter; and Republic Services, the Town's recycle and trash collector for decades, through their longtime Municipal Services Manager Jeri Harwell!
 2017 Copper Canyon College Scholarship Judges:
Attorney and former Mayor Mark Burroughs (Denton) ,
Emergency Medical Director Dr. Justin Northeim,  D.O. (Bartonville),
Mrs. Jeni Payton (Copper Canyon),  and
Veterinarian Dr. Cindy Skidmore, DVM (Copper Canyon).
The judging process is always "blind".  Judges did not know the identity of the applicants, their home address, or their parents' names.  Student scholarship applicants did not know the identity of the judges.  Judges live in North Texas and in Copper Canyon and represent a variety of professional backgrounds.
Attorney Mark Burroughs' firm Sawko & Burroughs, P.C.  collects delinquent taxes for many municipalities in our state, including Copper Canyon.  Mark also served as Council Member and Mayor of the City of Denton and has served on many charitable boards including CASA, United Way of Denton County, Denton Public School Foundation, and Cumberland Presbyterian Children's Home.  As Mayor, Burroughs also increased the City of Denton's contribution to the Denton County Children's Advocacy Center from $9,000 to $35,000. His and wife Annie's daughter Maddie is resuming her college career and son Mark, Jr. will be entering Texas Tech's Medical School to become a surgeon.
NOTE:  Mark was one of 10 USA mayors invited in 2009 to Saudi Arabia.  Other city mayors were from Green Bay, WIS., Phoenix, AZ., Tallahassee, FL., etc.  But,  Denton, TX was the smallest  US city invited!
Dr. Justin Northeim, DO is Board Certified in Emergency Medicine and with the Baylor Scott and White Health System.  He is not only the Emergency Medical Director for our Argyle Fire District but he is part of BEST EMS, who provide emergency medical services for multiple EMS districts in the DFW area.  Dr. Northeim lives in Bartonville with his wife Kari and son Dylan and daughter Brooklynn. We did welcome his lovely young daughter Brooklynn, who accompanied him to the scholarship awards!
Jeni Payton and husband Russell Payton built their home in Copper Canyon on South Copper Woods Lane in 2009 and have served as Neighborhood Watch Block Captains since 2012.  They have three daughters:  Hannah, who won the top Town College Scholarship Award in 2012, and fraternal twin daughters Amy and Rachel.  I asked Jeni to serve as a Scholarship Judge because (1) she and Russell are putting three daughters through college and understand the financial commitment required; and (2) Jeni is a full time stay-at-home mother, which I was until I became an attorney at age 40.
NOTE:  Jeni went to school in Tehran for 6 weeks before the Shah of Iran was overthrown.  Then her Dad sent she and her mother out of Iran for safety.
Veterinarian Dr. Cindy Skidmore, DVM and her husband Russell Skidmore moved to Copper Canyon over a decade ago. They live in one of the most beautiful – and possibly largest – homes in Copper Canyon on Jernigan Road.  Their oldest daughter Ashley is at Savannah College of Art and Design.  Youngest daughter Brooke is at UT Austin in medical school.  Dr. Skidmore tended thoroughbred horses in Kentucky before moving to Texas.  She is also volunteering on Copper Canyon's  Planning and Zoning Commission.  Husband Russell volunteered on our Road Bond Task Force.
Graduating Senior Celebration Event enjoys Beautiful Weather!
Copper Canyon had 11 graduating seniors this spring! Graduates may attend LISD's Marcus High School, Denton ISD's Guyer High School, Liberty Christian Academy, Corum Deo Academy, Denton Calvary Academy, Lakeland Christian Academy, or be home schooled. The seven Copper Canyon seniors who did not apply for scholarships were:
Riley Carr, daughter of James and Michelle Carr of Quiet Hill Circle
Madeline Collins, daughter of John and Abby Collins of Pilot Lane
Isaac Peterson, son of Darrin and Marnie Peterson of Estates Drive
Cole Porter, son of Kirk and Candy Porter of Post Oak Road
Tyler Sandefur, son of Michael Sandefur of Estates Drive and grandson of Myrna Sandefur of Bridle Path Road
Jacob Shipley, son of Garth and Sandi Shipley of Meadow Drive
Graham Stephens, son of Brenda Adams of Woodland Drive and grandson of Grace Weir of Chinn Chapel Road
Each senior received a full size Texas flag with a certificate in their name that the flag had actually flown over our State Capitol in Austin.  The certificates were provided courtesy of our Texas State Legislator Tan Parker and his District Administrator Trish Robinson.  Each senior, who didn't receive a scholarship award, was also given a $100 gift from donors towards their college tuition.
Any senior who was unable to attend the Celebration can receive their flag and $100 donation check at Town Hall.  (Please bring your driver's license for identification.)
However, identifying all Copper Canyon high school seniors graduating in a given year is always dicey.  For privacy reasons, schools are reluctant to provide contact information for graduating seniors.  And if the graduate's last name is different from the step parent or grandparent who owns the home where the student lives, we may not be able to timely notify them of the Senior Celebration Event or the available scholarship applications.  If you know of a Copper Canyon senior graduating in 2018 or even 2019, please notify Town Hall 940-241-2216 Ext 0.
Copper Canyon Seniors Raegan Whittaker, Stephanie Barber, Raegan Pyle, and Hope Schoonmaker share $4,000 in College Scholarships for Tuition!
These four young women are not only intellectually bright but excel in other areas of music, sports, extracurricular activities, and community service!  Reading their references and their personal suggestions for education in our country is reassuring for America's future.  They can handle the challenges – and – already have!  Thank you to their parents!  And, thank you to their teachers, coaches, employers, and adult friends who took the time to send very personal references for each of them.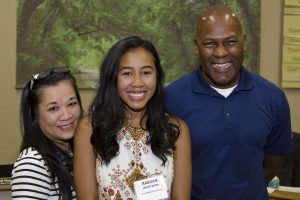 Raegan Whittaker  is the daughter of Curtis and Bic Whittaker  of the Estates of Copper Canyon.  She has been accepted at both UT Austin and Tulane University in New Orleans for a major in Biology, BioChemistry, and/or Neuroscience.  Besides Marcus High School academic honors in the National Honor Society and as  President of the English Honor Society, Raegan was a 3 year varsity Member of the Marauders Track and Field Team!  The High Jump was her specialty!
Her adult references said:
(1) "Whether it's painting an entire school gym or colleting cans for the homeless, I am always amazed by her eagerness to help those in need."
(2) "Without a doubt, one of the most intelligent, hard-working students I have ever had the privilege of teaching.  The joy she brings to all around her is contagious, and the kind of joy that validates what we do as educators."
(3)  "Her dedication to excellence is also what separates her from her peers.  She simply will not be stopped – be it personally, academically, or athletically."
Some of Raegan's insights on public education:
"Education is priceless, and it should not be administered in buildings that resemble prisons….Schools should be hosted in smaller buildings.
As a student in high school, I am aware of how lonely and scary it can be to walk through halls with nearly a thousand other students I do not know.  If schools were smaller, students would be able to create more relationships with their peers and teachers, which would ultimately lead to better performance in the classroom."
"Teachers should encourage teamwork.  In a work setting, individuals must work with other colleagues.  Unfortunately, students of today have been hardwired to see peers as competitors due to the class rank system."
"I define success in a way that differs from its textbook explanation.  I hope I can positively impact the lives I come in contact with."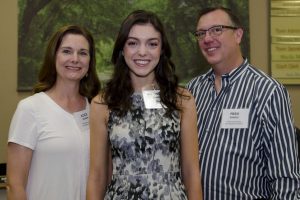 Stephanie Barber is the daughter of Fred and Alice Barber on Quiet Hills Circle.  She has been accepted at the University of Arkansas in Political Science, Communications, and/or Pre-Law.   At Denton Calvary Academy she was President of her Student Council, Editor-in-Chief of the Yearbook, and a member of Varsity Dance for the two seasons of 2016 and 2017.  She was also a Miss Dallas Teen USA and the 2016 Congeniality Winner of the Miss Universe Organization.  In the International Junior Miss contest, she won Miss Lone Star Teen for 2017. "Currently I am working on starting a non-profit for students with learning disabilities like myself (dyslexia)…and giving college scholarships for those students."
Some of Stephanie's Insights on International Cultures:
"Our students would benefit from social studies courses that dive deep into African and Asian history, as well as courses that discuss current events.  I have spent time in family's homes in Italy, Namibia, and elsewhere.  And found much more that we have in common than what separates our cultures.  Today's technology means that we are connected with other countries instantly.  It is crucial that we provide our students with educational contexts that help them to unite and function well across these many cultures."
Stephanie's references wrote:
"I am the Activities Manager at Sky Ranch Christian Camps in Van, Texas, and she was a lifeguard for me this past summer….Sometimes as a lifeguard you have to make unpopular decisions, or tell kids no. Stephanie was comfortable making these calls, because she knew it was ultimately for the safety of the kids. At times when other guards may have bent the rules to appease kids, Stephanie kindly and firmly enforced the rules."
"We've raised grandchildren since 2004….I've been proud to have Stephanie as my granddaughter's best friend over the years. When they go somewhere together, I can depend on the truth as to where they are going and that they'll return at the agreed time. Both of the girls have done a number of community projects together and separately."
NOTE:  The Barber family moved to Copper Canyon last year.  Stephanie's Dad Fred Barber said he began reading the "What's Happening in Copper Canyon" monthly column before they decided on the location to build their new home.  Stephanie and her dad Fred are certainly "good neighbors."  They made the 911 call when a gas tank exploded in Ralph Fellers garage and directed the Argyle firefighters to the site of the blaze.  Both Stephanie and her dad Fred have said they would like to volunteer in Copper Canyon.  Maybe we've found a new Father-Daughter team of Neighborhood Watch Block Captains for Quiet Hills?!?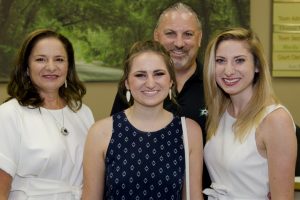 Raegan Pyle is the daughter of Blake and Kristen Pyle of Post Oak Road.  She is accepted at Quachita Baptist University in Arkansas in Entrepreneurship, Studio Art, and/or Sports Management.  She served on the Denton ISD Guyer High School Varsity Tennis Team and was its Manager her senior year.  She was a Key Club Member and scored a 3 at VASE in Art Competition her senior year.  Raegan also sang in her church's student choir the last three years.
NOTE:  Blake and Kristen are to be congratulated as parents!  Their older daughter Mikaela Pyle was recently Drum Major and Valedictorian of Guyer High School.  Mikaela is currently a Music Major at Baylor University.  It was wonderful to see her supporting sister Raegan's scholarship award!
Raegan's References:
"Raegan battles Type 1 Diabetes; however, she doesn't allow that to stand in the way of her goals. She did an excellent job maintaining her blood sugar levels while competing on the tennis courts.  She manages to keep a positive attitude towards diabetes giving her the courage and initiative to start a Type 1 Diabetes Group at Guyer High School.
"In my 21 years of teaching, I have come across some outstanding students and athletes. Raegan's true impact is what others see in her.  She subscribes to the philosophy 'If I'm going to do it, it's going to be done to the best of my ability, the first time!'  She maintains a level of maturity in thought and work ethic far greater than her peers."
Raegan's suggestions for Public High Schools:
"Schools should be smaller than they are now, so they can be run easier by energy efficient resources such as solar panels…Also, with a smaller campus the people can be more united and create a warmer environment….Being in a classroom all day can be exhausting and almost depressing.  So, there should be many places where the outdoors can be accessed and enjoyed."
And, "I have spent my whole live in the wonderful town of Copper Canyon…The chance to even get to apply for this scholarship is what makes me love my town even more.  If I do receive this scholarship, it will not go to waste – because I am beyond excited to further my education!"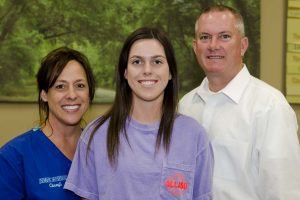 Hope Schoonmaker is the daughter of John and Cheryl Schoonmaker of Hyatt Drive.  Hope has been accepted at Tarleton University in Stephenville, Texas in Business, Criminal Justice, and/or Agricultural Business.  At Marcus High School she was a varsity member of the Clay Target Team for 2 years, a Future Farmers of America member for 3 years, on the Rodeo Team her sophomore year, and an Academic Magnificent Marauder.  But, Hope's ultimate goal is to become a commercial airlines pilot!
Hope's References:
"It is easy to get lost in the mix in such a large high school like Marcus. However, I feel that Hope is a frontrunner. I have seen her open up and welcome new students in the classroom and encourage them to jump in headfirst.  She has been a great advocate of agriculture!"
"For many years we have used Hope to help nanny our four children….She is great with all our children, even though each one possesses a different demeanor. She has a knack of communicating with each child on his level, helping each of them to understand and respect her." (A father, dentist and orthodontist.)
Hope's suggestions for Public High Schools:
"While the United States does have some of the finest and highest quality schools, they aren't perfect.  Our schools have many strengths – some of which include technology, advanced curriculum, and high quality teachers.  Some of the weaknesses include standardized tests and the problem of students memorizing course material instead of learning it."
Copper Canyon had other outstanding seniors who did not apply for scholarships.
Chinn Chapel Cemetery Associations's Annual Decoration Day
The first Sunday after Mother's Day is the traditional annual Decoration Day for the Chinn Chapel Cemetery.  Family members gather to place flowers on the grave sites, visit, and enjoy a "pot luck" dinner out of doors under the huge trees.  Chinn's Chapel United Methodist Church kindly loans its congregation's tables and chairs for the occasion and its Educational Building for the Cemetery Association's annual Board meeting afterwards.  Long time Church members and Copper Canyon residents Grace Weir and her daughter Brenda Adams arrange this each year.
For years the cemetery's maintenance has been provided by volunteers.  Copper Canyon's Roy Bradford  has mowed and maintained the grounds for decades.  His wife Annell Bradford is in charge of Beautification, and she lovingly tends the wildflowers growing naturally on the grounds.  Currently long time Town resident Billy Waite has begun mowing the front section alongside Chinn Chapel Road.
Bill Bradford, brother of Copper Canyon's Roy Bradford, published a book in 1997 listing all the active burial sites and reserved plots.  Kevin Davis of Waxahachie, Grace Weir's son and a professional surveyor, re-surveyed the Cemetery in recent years.  There are approximately 791 grave sites. Periodically, folks ask me if any plots are available, and I have to reply that all are either "occupied" or "spoken for".
The Cemetery Association Board:  President is Don Robertson of Irving; Vice President is R.D. Martin of Corinth; Secretary is Lisa Galvin of Northlake; Treasurer is Betty Leatherwood of Denton County (Betty was born and raised on Waketon Road where it intersects with Chinn Chapel Road.); Board Member Diann Calvert Miller lives in Argyle; and Board Member Brenda Adams lives in Copper Canyon.
This year the Board considered an interesting proposition from a Boy Scout Troop.
The Scout Troop, under leader Bob Nankervis, had cleaned the headstones of an old cemetery in Southlake.  It was amazing how the blackened stones with unreadable writing were lightened and the lettering was suddenly legible!  The Scouts darkened the indented lettering on some stones to make the information and sentiments even more readable.  The Board is considering cleaning the headstones in Chinn Chapel Cemetery as a possible Eagle Scout project.
The Cemetery Board is scrambling to maintain the cemetery grounds on a very limited budget.  If you would like to volunteer hours or contribute a monetary donation, please contact Town Hall 940-241-2216 Ext 0 and you will be given contact numbers for the Board.
Marjory Kent Vickery – 90 years Young!
Marjory was raised in Highland Park, but her family had a ranch of 100 +/- acres on the south side of FM 407 in Denton County.  After nursing her fiancé Paul Vickery back to health after his World War Two service, Marjory convinced Paul to buy her Dad's ranch.  They raised their five children on the ranch:  Kent, Kathleen, Preston, Peter and Kristina.
Marjory and Paul were among the initial incorporators for Copper Canyon as a town in 1973.  And, Paul was one of Copper Canyon's first Council Members – and later a member of the Town's first Master Plan Committee.  Marjory served on our Task Force for Roads.  At Copper Canyon's 35th Birthday Party, her Millionaire Pie also won First Prize for pies!  For many years thereafter, Marjory continued to contribute her Millionaire Pie to Town Events for Graduating Seniors or honoring our many Volunteers!
In 2003 we started a Copper Canyon Gourmet Dinner Club, modeled after one Emil and I had belonged to in Darien, Connecticut.  To call us "gourmet" cooks was a laugh!  Emil and I stood in our kitchen while Marjory and Paul Vickery, Gordon and Sylva Cohen, and Dean and Louise Williams each introduced themselves.  Our totally misnamed "Gourmet Dinner Club" continued for several years.  We had so much fun at our dinners in each other's home!  And, we got to welcome Dean and Louise little sons into the world, Jackson and Carter!
At Marjory's May 2017 services at Trietsch Methodist Church, each of the five children spoke in honor of their mother.  Kent is the oldest.  He was named in an old Southern tradition of mother's giving their children their maiden name. Because, in those days, a married woman gave up her prior identity and name and was thereafter referred to by her husband's last name.  One way a Southern woman identified her child was to give the child her maiden name as a surname or middle name.  Thus Marjorie's first child was honored with her maiden name "Kent."
NOTE:  My youngest son was named "John Rosson" in honor of my dad.  John never knew his grandfather, but he is so much like him in his love of his friends from every walk of life.  And my son John gave his first son my maiden name "Rosson", which I have so genuinely appreciated!
As the oldest sibling, Kent spoke first.  He said in convincingly slow terms –   "MOM GOT THINGS DONE!"  And there was immediately an appreciative response from the huge number of Marjory's friends attending her memorial service!
Marjory did get things done!  She was the first woman elected to the Lewisville ISD Board.  The men on the Board were not happy to have a woman in their midst.  So, they agreed to all smoke cigars continually through their first four Board Meetings in hopes the smoke would run Marjory off.  They didn't succeed.
Marjory was championing Crossing Guards – a novel idea then – so that children could cross busy streets safely to get to and from school.  She asked all her fellow LISD Board Members to go with her to a Lewisville City Council Meeting.  She was proposing an elevated bridge for students across I-35E at Fox Avenue, as a means for students to get safely to and from school.  At that time, students only had an 18" wide concrete path immediately next to dense I-35E traffic as a route to and from school.  Not even a remotely safe path for elementary age students!
LISD later named an elementary school in Flower mound in Marjory's honor.  Unfortunately, her husband of many years, Paul Vickery, had his first stroke the day before the dedication ceremony of the school in Marjory's honor.
Marjory was also the first Republican woman named to statewide office.  This was in the days when the Democratic Party controlled all state offices; so this was an incredible achievement!
Kathleen Vickery Bolin spoke next.  And likened her mother to a rainbow of colors.  Preston Vickery brought his wife of many years Beverly Vickery to the podium with him and said simply "She is the love of my life."  (I wonder how many women would melt if their husbands said that.  Preston evidently followed in his dad Paul's footsteps in loving and honoring their wives.)  Peter Vickery is the youngest son and has served as Chairman of Planning and Zoning for Copper Canyon.  His wife Rose Vickery is a retired Army RN and a dedicated member of the Trietsch Bell Ringer Choir.  Peter said "Momma heard that carrots would improve eyesight.  So she fed carrots to her five children in every form possible.  Unfortunately, all five of us wear glasses."
The youngest child, Kristina Vickery, said "I am the runt of the litter.  I look up to all my brothers and sister."  But she also said, "In our home my Dad thought mother was a Queen!  And, all of us kids agreed!  We are a clan!"
The Town will be planting two crepe myrtle trees at Town Hall in Paul and Marjory Vickery's honor – one hot pink crepe myrtle and one soft pink crepe myrtle – side by side.
Some observations from my recent travel to South Korea and Japan.
South Korea:  South Korea is a peninsula smaller than California.  In the 1950's it was one of the 100 plus most economically dis-advantaged countries in the world.  Former Double Oak Mayor Dick Cook was in South Korea after the Korean War.  He said the streets in Seoul were earthen.  There was NO economy.  Dick was serving on the battleship Missouri.  The captain asked sailors to vote if they wanted to take their leave onboard the ship or go back to Seoul.  The sailors voted to stay on the ship!
But, South Korea has re-invented itself! It is now among the top 11 economic countries in the world and home to world class technical companies like Samsung and a master of ship-building! The long peninsula is very mountainous and heavily wooded.  The only place for settlements is along the flat areas of coastal inlets and the few flat areas in valleys between the mountains.  These flat areas are intensely cultivated with fresh vegetables and rice.  Food is abundant. Freeways are excellent; as are rail systems.  Seoul's Inchon Airport is one of the world's finest!  And Korean Air is a superlative airline!
But, there are few individual homes as we know them in America.  People live in apartment high rises of 10 to 30 stories.  A thousand square foot apartment of 3 bedroom s 2 baths can cost between US $500,000 to $1,000,000 – depending on location.  So, many young people live at home with their parents.  They cannot afford to launch onto their own.
The high rise office buildings in Seoul were absolutely spectacular in design!  I have no idea who the architects were – but they were cutting edge!
I saw only one apparently homeless person in South Korea.  There was no trash on the streets or graffiti on walls.  Men on the streets were in conservative Western businessmen suits or neat service type men attire.  Their hair was cut short in Western styles with no facial hair or mustaches. The women on the streets were in conservative Western dress – no mini short skirts, tight tank tops, or loud colors.
But, the women's skin was incredible in its beauty.  Porcelain in color with almost no visible sign of pores.  Korean cosmetics are renown worldwide for their fineness.  One of their specialties is a type of snail "slime"!
Traditionally, families do not entertain at home (probably due to small apartment spaces), but three generation families can often be seen dining out.  Usually, there are only one or two small children – no large families with many children.  But, the children are obviously well loved and well cared for!  And, they are well behaved!
North Korea:
We asked our South Korean guide, who had lived in California 20 years, why do the people in North Korea not revolt?  He said, you have to understand the risks.
If you join the North Korean Army, you are paid a salary.  You have food – and you can buy food for your family.  (This is a land of ongoing famine!) You have shelter – and you can buy shelter for your family.  You have uniforms – and you can buy coats for your family for the brutal winters. You have training – and you can buy education for your family.
The alternative is grim.  You can be imprisoned if you have a cell phone.  There is NO social media!  All television is strictly controlled by the government.
Objectors to the government are subject to forced labor or even death!
The dictator of North Korea is commonly referred to in the south as the "psycho".  What is obvious for South Koreans is that they are at the mercy of America's dedication to their defense.  North Korea has an estimated one million soldiers. Four tunnels have been discovered dug from the north to the south.  Each tunnel could accommodate a 1000 North Korean soldiers and their equipment moving south per hour!  And, the South Koreans realize this is only the tunnels far underground that they have discovered so far.  There are probably many more undiscovered tunnels.  South Korea has only a token military force. On the ground, South Korea could be overrun by North Korea's military in a heartbeat.  And, the South Koreans live with this knowledge daily.
The North Korean dictator's goal is an intercontinental ballistic missile carrying a nuclear warhead than can reach the United States.  At present, his missiles can easily reach South Korea, China, Guam, and Japan.
Japan 2017
My husband Emil and I spent a month in Japan in 1965 when he was helping a chemical plant start-up by his company Celanese, joint ventured with the British company Imperial Chemical Industries (ICI).  At that time, I was absolutely "blown away" by the work ethic of the Japanese men I met!  They easily worked six days a week for far more than eight hours a day.  Japan is still an incredible economic machine. Toyota is proud of their advances in safety for drivers of their vehicles! I saw no trash or graffiti.  People carried their own individual waste refuse bags.  Signs said NO SMOKING on Public Streets!  If you wanted to smoke, you had better carry off your used cigarette butts!
The Tokyo metroplex was incredible! A densely populated area of 12 million people! At the top of the towers, as far as I could see, was a sea of metroplex development!  Many 10-15 story buildings, but few taller due to the ever present danger of earthquakes.  Decades back architect Frank Lloyd Wright developed the "floating foundation" for tall buildings.  This allowed the structure to absorb the tremors of quakes without the building being destroyed by the shaking.
There were no extensive parks visible and almost no green belts! The land is too valuable for multi-acre parks.  But, individual trees were treasured and well maintained.  Our visit was during the annual blossoming of the native Japanese cherry trees – and they were absolutely beautiful!  And blossoms in a variety of cream, soft pink and dark pink.  I had always thought that cherry blossoms were only dark pink, as the ones at our Capitol in Washington, DC.  I also learned that most of the ceremonial cherry trees do NOT bear fruit; they are simply treasured for their ornamental beauty.
Here in Copper Canyon, we live on one acre plus home lots.  Such a luxury of natural, green space around us! The more I travel internationally, the more I realize how incredibly blessed we are with the simple "natural space" around our homes.
Understandably, the United States and its Allies after World War Two did NOT allow Japan to have a standing army.  So, Japan's safety from missile attack from North Korea now is totally reliant on defense by the United States.  Was Japan able to commit all its resources to economic revival after World War Two?  Yes!  And, in return, the US agreed to protect Japan from military harm.  Did it put the financial burden of Japanese defense on us?  Yes.  But, I am not sure we would have wanted it otherwise given the background of Japanese military invasions in Asia during World War Two.
"The Vanishing American Adult" by Nebraska Rep, US Senator Ben Sasse
I don't normally recommend a book I haven't even read.  Senator Sasse refers to "ongoing adolescence".  He said there is little difference now in maturity between 10 year olds, 15 year olds, 20 year olds, and 25 year olds.  He calls it the age of "passive digital addiction."  15-25 year old males spend 40% of their spare time on video games and/or pornography.  They read only 19 minutes a day. They have little work experience and few close personal friends.  My daughter Tamara Cuthrell has very perceptively referred to young men this age as "Adults in Training Wheels".
Senator Sasse said "Happiness normally comes from three sources";
Family and friends – but young adults now have only one close confidante and many families are divided by divorce.
Work Experience – work is not only self-supporting, but provides But, many young adults have almost NO work experience!
Health – In later life, pain and restricted mobility erode many normal pleasures. So, we need to teach our young people how to live a healthy life in their youth and mid years, so they are healthy adults in later life!
My granddaughter Emily Tejml recently sincerely thanked me for sending her a book on personal finance.  She has worked all her teen years as a life guard at the YMCA and teaching swimming lessons to the very young.  She is on a college scholarship now at UT Austin.  But, she said:  "Nana, I don't know how to read an apartment lease, understand car insurance, get a credit card, understand medical insurance, understand how to establish a personal credit history, etc."  Somehow our high schools and our colleges are missing a critical element of personal financial instruction for students.