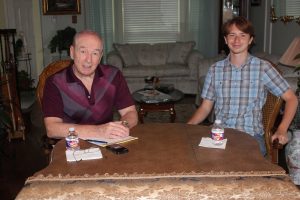 It's always encouraging to see young people making great strides in their pursuit of education and their willingness to share their value system with others.
Joshua Hendrickson is a 17 year-old Lantana resident who has already achieved his Associate Degree from North Central Texas College (NCTC).  In August, Joshua will be attending the University of Dallas.
Recently, Joshua returned from 3 weeks in Romania with a missionary group of 14 people from Christ For the Nations Institute (CFNI), an interdenominational Bible College in Dallas (www.cfni.org). Their goal was to spread the good news of the Gospel of Jesus Christ. Visiting about a dozen towns and cities, Joshua also learned about the culture, the architecture and the frame of mind of local residents.
Part of the CFNI mission statement declares: "The heart of CFNI has always been to train and to equip people to pursue their dreams and make an impact worldwide. Love for the nations is developed in our dorm rooms as well as our classrooms. Living on campus provides students with a rich and unique environment that has been cultivated here since 1970." In addition, there are 7 stated Doctrinal Fundamentals of CFNI:
We believe the Bible is God's standard and measurement for believers.
We believe in a personal experience of salvation by faith in the name of Jesus and obedience to His Word.
We believe in the baptism of The Holy Spirit and the operation of spiritual gifts.
We believe in intensive evangelization by preaching, teaching, and healing, according to the Gospel of God's kingdom.
We believe in personal holiness and separation from the world.
We recognize that all true believers, regardless of denomination and organization, are baptized of one Spirit into one Body, thus fulfilling Christ's prayer for unity.
We believe in the Christian's hope of an imminent, personal return of the Lord Jesus.
In the video below, Joshua talks about what he learned during the mission trip and how the message of Christ was received by the Romanians he encountered. Joshua lives with his sister Julianna and his parents Jon and Lisa Hendrickson. Lisa is the Chairman of the Denton County Republican Party.
Bob Weir is a former NYPD officer, long-time Flower Mound resident and former local newspaper editor.