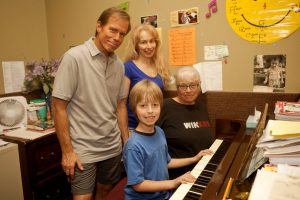 Blues music originated in the African-American communities of the Deep South based on songs depicting the musical traditions of its originators. It's a genre that today remains rooted in that history.
So, when a nine-year-old suburban boy not only takes a liking to the rhythm and melodies, but plays them well on his grandmother's piano, it's something to notice. It's even more noteworthy when others far beyond family and friends recognize the prodigy's ability to interpret the tunes.
However, the most impressive skill is that he can compose new blues material; and, even more so, the fact that he has a high-functioning autism spectrum condition called Asperger's.
Such is the case with Highland Village's Dylan James Shaw, the Heritage Elementary School fourth-grader who recently captured the Overall Award of Excellence in Music Composition in the Texas Parent-Teachers' Association's Reflections Award Program.
His blues tune, "My Joy Song," was selected as the best from more than 1,000 original local and state submissions advancing him to the national level.
He received his state award May 6 in San Antonio and should learn in June how he fares in the national competition.
"He has been telling us about pitches and musical notes since he was very little," said his mom, Christine. "One time we were staying in a hotel when he was just five and he told me the elevator ding was an F-note. I was skeptical at first, but we went home on the piano and sure enough it was. And so he had these exceptional tones that he could hear.
"He's been tested by hearing people and he does have perfect pitch. So, he can hear notes and knows if they're wrong or right and if they go together or not."
Heredity also may play a role in his musical ability. Christine is a long-time professional singer who graduated from the High School of Performing Arts in New York City, made famous by the "Fame" movie and television show. Dad Ken writes music and the two are members of a band called Dangerous Hearts that recently played at the Woodshed Smokehouse in Fort Worth.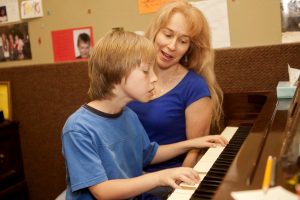 In addition, grandmother Jan Winburn teaches piano at his uncle Mike Winburn's Win-Kids Sports and Learning Center in Flower Mound. It was Jan, a single mother of six children, who took her family to New York from Florida to follow Christine's musical path.
Dylan took his first piano lesson from his grandmother at age four, when the family lived outside Austin. Those lessons continued annually until the family moved to Highland Village when Dylan was in second grade. Ever since, Jan has taught him for an hour every week after quickly realizing his talents.
"She realized, because she's seen hundreds of kids, that he had this exceptional ear and talent to just play," Christine said. "I didn't believe it at first. I was like 'is it for real?' "
"Of course I was bragging because he's my grandkid," Jan added.
So, what drew Dylan to the music?
"When I started realizing music was a good thing," he said.
Why does he like blues music?
"The music is interesting and really creative and it has good pitch," he said.
He proudly likes to show off the multiple music books he and Jan went through in his earlier years. He's since moved away from the books to the more free-form of the blues.
"He can read the music and we tried hard to read the music, but if I play anything for him, he'll just turn around and play it," said Jan, who teaches about 20-students each week. "We were counting yesterday and there are 10 songs he can play without music."
He often plays one of those songs – Stevie Wonder's "You are the Sunshine of My Life" – for his mom to sing.
His original, award-winning song was first written on a blank piece of paper. He initially struggled with the piece despite Jan's help. But, once visitors hear him on the piano, it's obvious from his improvisation skills he's mastered it quite well.
The composition won the competition by its own merits against other contestants of all levels and skill abilities.
"We never knew music would become a means of therapy for this little special needs boy AND a huge success amongst a world of Autistic chaos," Christine said.