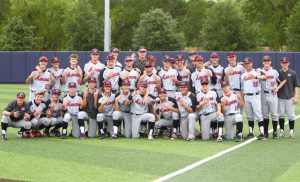 The Marcus baseball team emerged victorious in the playoff version of the Battle of the Mound last week and now finds itself in the regional semifinals facing Arlington Martin.
Martin was ranked No. 7 in the state among 6A baseball programs in a final regular season poll in early May, and Marcus Coach Jeff Sherman said his team will certainly be in for a battle.
"They have a couple of pitchers that have pitched really well this season," Sherman said. "(Kenneth) Waller is a 13-0 lefty that has been really solid.  They have (Tristen) Lutz in the middle of the lineup that might be a first round pick next week. Their shortstop (Kurt Wilson) is their closer and best hitter right now.  They are very solid and been playing really well."
Martin defeated El Paso Socorro to advance to the regional semifinals, while Marcus defeated cross town rival Flower Mound 2-1 in a best of three series.
The Jaguars took the first game of the series 7-3, but Marcus rallied with two wins (11-3, 3-0) to advance.
"After the first game, I felt we played really good baseball," Sherman said. "We were more focused and we pitched well, played great defense and hit the ball really well. We had some great defensive plays in the games as well."
Sherman said he had a couple of standout performances in the series.
"Michael Leaumont hit over .500 and won game two," Sherman said. "Ridge Rogers made one of the best catches I have ever seen in game three. It was a big time play."
Marcus will open its series with Arlington Martin at 8 p.m. on Thursday at Dallas Baptist University, with game two on Friday at 5 p.m. and game three (if necessary) on Saturday at 11 a.m., also at DBU.
The Argyle Eagles also advanced, cruising to a 12-0 victory over Bonham in the regional quarterfinals last week and will face Pleasant Grove starting Thursday.
Argyle played a single playoff game for the third straight week instead of a series, and coach Ricky Griffin said his team had a great effort.
"I was very pleased with their performance," Griffin said. "I'm proud of how they have handled the one game series."
Griffin said he had an especially strong effort from his starting pitcher in the game with Bonham.
"(Connor) Mushinski was very good on the mound," Griffin said. "Maybe had his best stuff of the year."
The Eagles will play a best of three series against Pleasant Grove this round, and Griffin said his team will definitely have its work cut out.
"Pleasant Grove is just like they always are," Griffin said. "They don't make mistakes, so you have to play better than them to come out on top."
Argyle will play Pleasant Grove at 7:30 p.m. on Thursday at Mike Carter Field in Tyler, with game two at 2 p.m. on Saturday and game three (if necessary) at 5 p.m. on Saturday.