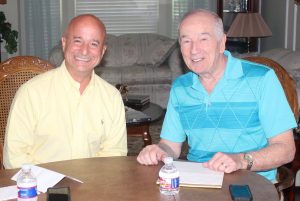 If you've lived in the Flower Mound area for any length of time and haven't met Al Picardi, you're missing a very amicable experience. From his Boston accent to his significant community involvement, Al is as charming in casual conversation as he is dedicated to the pursuit of public service. Always a gentleman, he speaks his mind with a forbearance that illustrates his respect for the opinions of others.
A resident of Flower Mound since 1993, after being transferred here by Fidelity Investments, Al and his wife Janice, who are celebrating their 30th wedding anniversary this year, have four children, all of whom have graduated from LISD and are still attending, or have graduated from the University of Arkansas.
Al served on the Flower Mound Library Board as well as on the Friends of the Flower Mound Library, where he still installs commemorative bricks and stones for them. He is a former president of the Summit Club, the oldest men's organization in town, and currently serving as its secretary. In addition, Al is chairman of the Mound Foundation, an organization committed to preserving the original character of The Flower Mound and sponsors works of related historic, scientific, and educational interest.
In the video below, Al talks about his commitment to the community and his endeavors to preserve the symbol of the town from which our name derives. He also discusses his recent appointments to the Tax Increment Reinvestment Zone (TIRZ) and to the Planning and Zoning Commission – Place 9 – alternate. He intends to retire this year from Fidelity after more than 27 years. One can only imagine how much more active he might be when he has more time on his hands. People like Al Picardi are the pillars upon which every successful community is firmly based. We're very fortunate indeed to have them in our orbit.
Bob Weir is a former NYPD officer, long-time Flower Mound resident and former local newspaper editor.