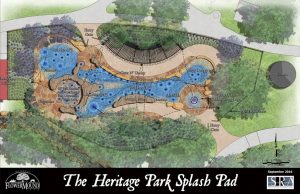 Improvements to Flower Mound's Heritage Park in four phases was approved in December 2014, which will continue with construction on Phase 3 beginning in early June.
On May 1, the Town Council approved a $1.8 million contract with Northstar Construction for the project. This phase of the project will take approximately nine- to 10-months to complete and several areas of the park will be closed during construction.
"We'll have to close the [Fort Wildflower] playground, because the [new] splash pad will be next to the playground," said David Bauer, construction manager for the town. "Unfortunately, with all the equipment coming and going, the only area that can stay open is the trails on the north side; and, maybe the pond area."
Also set to be closed during construction are: the existing pavilion; restrooms; sections of trails and parking areas; as well as a small area on the east side of the park.
Bauer said the portion of the park that closes should re-open in the spring of 2018.
Mayor Tom Hayden and council member Don McDaniel asked about shading for the new amenities.
"We've put a complete shade structure over 90-percent of this [splash pad]," Bauer said. "We'll also have a trellis made out of metal that will completely shade the area, so parents can sit and watch their children play. Plus, there will be the natural shade of all the trees there. It's got a lot of shade there."
Hayden remarked at how expensive shade costs to buy.
"It's over $100,000 for this area," said Bauer.
Phase 3 will include: a water park-style splash pad; 25 parking spaces and lighting in the parking lot; a restroom and a second pavilion at the southeast corner of the park; landscaping; irrigation and erosion restoration; 95-feet of 6-foot wide trails; and, possibly a sculpture.
"Sales tax revenue is what's paying for this park and Twin Coves Park," said Hayden. "Without our sales tax, none of this would be possible."
Bauer said once Phase 3 is complete, Phase 4 will likely begin.
Phase 4 will include an 18-hole disc golf course that begins near where the restrooms will be, goes under Garden Ridge Boulevard and extends to Bakersfield Park. It will also include 1.5-miles of trails, a scenic overlook, wildflowers, a plaza with an arbor and kiosk and four to five sculptures.