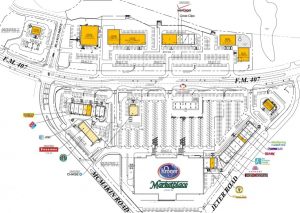 Residents along FM 407 in Bartonville, Lantana, and Argyle will soon have new places to get their vehicle repaired, cash their checks and fill up their tanks.
Firestone Complete Auto Care is working with shopping center developer NewQuest Properties to open a location behind Starbucks in Lantana Town Center on FM 407.
Preliminary plans call for the auto repair shop to be situated so that it faces McMakin Road across from Guidance Preparatory Academy.
Another new tenant on the way is Chase Bank which will occupy a freestanding building between Starbucks and the Kroger gas station along FM 407.
Speaking of fuel, the popularity of the gas station has prompted Kroger to add more gas pumps later this year.
Phase II of Lantana Town Center across FM 407 from Kroger is also about to kick off. Clearing and grading operations are expected to begin this summer on the 10-acre site.
The center consists of seven buildings containing 74,473 square-feet of retail and restaurant space. So far, Great Clips, Casa Mia Mexican Restaurant and a nail salon have signed leases and are expected to open in 2018.