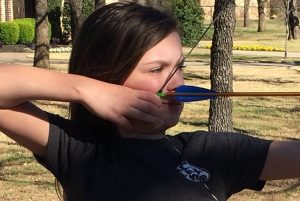 For 11-year-old Argyle resident Merritt Hawkesworth, archery is a serious passion.
Hawkesworth recently competed in the 2017 National Archery in the Schools Program (NASP) Texas State Scholarship Championship and won the elementary division, finishing first out of 220 female competitors.
Archery tournaments feature competitors shooting three rounds of five arrows from 10-meters, followed by three rounds of five arrows from 15-meters.
"You share a target with a competitor from another school so that you can keep each individual honest with their scores," Hawkesworth said.
The Argyle Intermediate School fifth grader finished 87th out of 847 girls participating in all divisions of the contest; and, said winning a National Championship is still sinking in.
"It was an overwhelming feeling of both accomplishment and excitement," Hawkesworth said. "The most encouraging feeling, to me, was that I was really calm and able to shoot my personal tournament best of 268. It was as if I was the only person in the room."
Hawkesworth said she originally became interested in archery, because her friends were doing it, but that changed when she made an interesting discovery.
"I realized that I was actually pretty good at it," Hawkesworth said. "Later, I learned that my grandfather was personal friends with one of the greatest archers of all time, Howard Hill.  When he told me stories about his success in winning 196 consecutive tournaments, the only person to this date to do so, it encouraged me to focus more on practicing and getting better."
Archery is growing in popularity in southern Denton County.
Since September 2004, five schools in the Denton ISD, including Harpool Middle School and E.P. Rayzor Elementary School, have participated in a program through the Texas Parks & Wildlife in which at least one educator has been trained as a basic archery instructor or trainer, according to the TPWD website.
Argyle High School, Argyle Intermediate School, Argyle Middle School and Hilltop Elementary School, along with 21-Lewisville ISD Schools, including Flower Mound and Marcus High Schools, also participate.
One LISD program, the Arbor Creek Middle School archery team, finished second in the state in 2014, and Outdoor Adventures teacher and team coach Dan Mannering said archery has many advantages over other sports.
"Archery is a sport where the playing field has been leveled," Mannering said. "Boys and girls can compete on co-ed teams and against each other. Above average physical strength, speed, dexterity, quickness are not the emphasis. Instead, concentration and coordination are the keys to a good archer."
Mannering said that another interesting aspect of archery is that participants can score in two ways.
"The first is as a team member," Mannering said. "Their score counts for the total score for the team. The second way is as their individual score. They can take pride and win from shooting their personal score. An archer is competing against themselves each time they shoot to try to get better than they did the last time, so even if they did not finish in the top spots, they can do better than they did last time they shot in a tournament."
The Lamar Middle School archery team brought home a State Championship in 2016 for LISD, but an interest in the sport goes back nearly 40 years.
Lloyd Hensley of the Denton County Archer's Club said his organization formed in 1980 for archery enthusiasts and is open to anyone interested in the sport.
"It is a traditional archery club, but many members are compound bow shooters," Hensley said. "We accept members at all levels of experience. You can join any time during the year by submitting a registration form and fee."
Information about the Denton County Archer's Club can be found at the organization's website at: www.dentoncountyarchers.org.
Hensley said one of the best things about his club is: "We offer a safe place to shoot. There is a practice area and 3D targets set up by safety knowledgeable members. We do not offer lessons, but members are willing to answer questions."
For Hawkesworth, the next step is the 2017 NASP National Tournament in Louisville, KY on May 11. Her most important objective for the sport of archery is simply to get better.
"I want to continually improve and be more consistent from tournament to tournament," she said. "To keep it fun.  I never want it to be a chore."