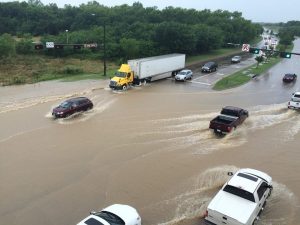 Flower Mound is preparing to accept bids to complete millions of dollars in improvements to address localized flooding at the intersection of FM 2499 and Gerault.
Ken Parr, Flower Mound's Executive Director of Public Works, says flooding during heavy rain has been an issue since before he started working for the town more than 15 years ago.
He says the drainage structure the Texas Department of Transportation put in under the intersection many years ago is too small, and they have secured grant money through the Regional Transportation Board to create a larger opening near 2499 just west of the Gerault intersection. It will allow water to more effectively and efficiently get to Denton Creek via a new conduit. A retention pond will also be put in to keep water off of the intersection.
That combination should alleviate flooding during heavy downpours, but Parr says it will not address more serious long-term flooding resulting from prolonged rain events. A similar scenario which played out in 2015 and 2016 during days of rain was brought up at the recent town council meeting by Mayor Tom Hayden.
Parr says the $7 million in grant money they've secured will pay for the bulk of the improvements, and it will also fund downstream improvements in Grapevine.
The full cost of the improvement project will not be known until a contractor is selected to do the work. That is expected to happen by mid-June with final council approvals coming sometime in July. Officials in Flower Mound expect the project to be completed by late Spring 2018.
Construction at FM 2499 and Gerault is should begin in early August at the latest, and the project will do more than just tackle problems with localized flooding.
Parr says they're planning to extend the ramp from southbound Gerault merging onto southbound FM 2499 past the stoplight at the Riverwalk Apartments. Currently, drivers using the southbound flyover to get on 2499 have to merge quickly into traffic. The signals at the intersection will also be upgraded.