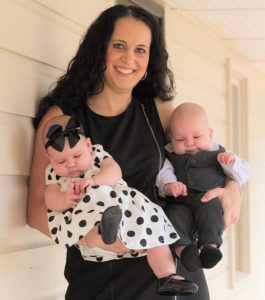 For many women, the journey of motherhood begins in the Labor and Delivery wing at Texas Health Presbyterian Hospital Flower Mound.
Jennifer Caldwell, a labor and delivery nurse at the hospital, has experienced both sides of the coin.
"It is a rewarding experience getting to see those first-time moms and seeing the reaction on their face of seeing their babies," said the 10-year nursing veteran. "Even moms becoming a mom for the second, third, or fourth time, it is a fun experience. It is very joyous to watch moms get to hold their babies for the first time and work so hard to deliver them."
Last year, Caldwell went from the nurse to the patient when she delivered her twins – Braxton and Brinley – 11 months ago at the hospital.
"You get to the see the other side of the fence," she said. "You're the actual patient now, so it's a different feeling."
Texas Health Presbyterian Hospital Flower Mound is a full-service facility comprised of an experienced and dedicated team of perinatal and neonatal nurses. The Women's Services department is made up of eight private labor and delivery suites, two dedicated cesarean delivery operating suites, 17 private mom/baby suites, five monitored antepartum suites and a six bed, Level III Special Care Nursery/Neonatal Intensive Care Unit, according to Pam Petrides, director of marketing.
The hospital delivers an average of 150 babies per month.
"Our Women's Services staff members realize families have a choice when it comes to deciding where to deliver their baby," said Jennifer Deel, RNC-OB, Director of Women's Services.
"Knowing the impact and value of this decision, our focus is on the family and their journey. Our staff takes great pride in connecting with our families. From the moment they sign up for prenatal classes, until they return home with their new bundle of joy, our staff is by their side."
Becoming a mother gave Caldwell a different outlook for her job.
"Now that I am a mom, it totally changes my perspective, not only on being a mom, but being a labor and delivery nurse as well," she said. "I know more physically what they're going through. I can coach them through it, I feel like, a little bit better than I could before. I have a different eye-opening experience since I've been through it."
Even after a decade working as a nurse, there is still awe and wonder in the labor and delivery department for Caldwell.
"There are people becoming moms for the first time, people becoming dads for the first time, people starting their families, continuing to grow their families and it is just a special moment you get to share with your patients and their families," she said.