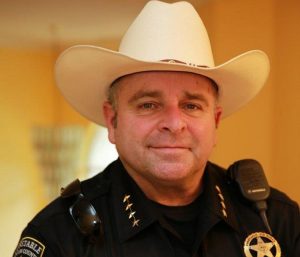 by Constable Tim Burch, Denton County, Precinct 4
As those of you who already know me and follow my column, I always begin first and foremost by giving thanks to the Lord Jesus Christ for all the blessings that have been given to me.
Through recent combined efforts with the Gainesville Police Department and the entire Denton County Constable Precinct 4 Office, we just completed the Annual Medal of Honor Recipient Escort, with this year one being the largest ever of its kind.
I want to give extra special thanks to my entire office staff, and also to Jerry Garrett of the Denton County Emergency Management Services for their tireless efforts to ensure the success of this event. It is once again my honor and privilege to provide such an escort for the Medal of Honor Recipients whom have been honored with the highest attainable honor awarded through the United States Military Service. I also want to give special thanks to all of the Public Safety participants from agencies and departments throughout the State of Texas.
We recently lost an important leader in the Town of Double Oak. My sympathies and condolences go out to the family of Double Oak Mayor Pro Tem Steve Durbin. Mr. Durbin was well known and loved in the community and his sudden departure was a tragic loss.
There are several upcoming events that my department will be actively participating in during the month of May which will include the Annual Mayor's Prayer Breakfast hosted in the City of Lewisville, the City of Roanoke Ribeye Cook-Off, and the Ponder Old Frontier Days. You are welcome to join us at the aforementioned events and we always welcome support from the community.
We have experienced some erratic weather patterns this season. In the wake of the torrential and damaging storms we have observed recently, I urge everyone to acclimate themselves with the proper emergency procedures and possible safe havens during the course of these storms. For further discussion, please contact my office.
We recently celebrated Earth Day on April 22nd, and while this day of the year is for the most part taken for granted, it is time to make a global awareness of the global climate, its changes and how it affects us. As the old saying goes, 'Every Day is Earth Day', and implementing an environmentally conscious regime into our own daily lives such as recycling waste, turning off your engine as opposed to idling, and striving to purchase Energy Star certified products only identify a few of the things you and I can do to help.
We are looking forward to with anxious anticipation the grand opening of the new Constable's office located within the new Southwest Denton County Government Complex. The grand opening details will be announced soon.
With the upcoming town council and school board elections, I urge everyone to rely on integrity, goodwill and God speed in your efforts.
Thank you and God Bless.
You can contact Constable Burch directly if you need assistance or have feedback you would like to share. His office is located at: 217 North Oak St., Roanoke TX 76262. Email: [email protected] Phone: 972-434-3980. You can also visit his political website:www.timburch.com or email [email protected]