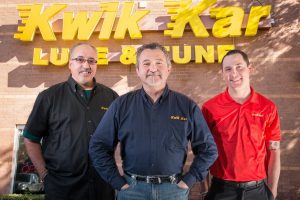 by Albert Gutierrez, Operations Manager, Kwik Kar Flower Mound
It is a rite of passage to finally own the car of your dreams. For some, that dream car may be a vintage car (classified as a vehicle from 1919 to 1930) or a classic car (typically a vehicle that has been on the road for 30+ years).  For others, it may be the latest top-of-the-line luxury sports coupe that has just hit the market. Whichever category you fall into, you take great precautions to ensure your 4-wheeled dream machine gets the utmost care.
So when service is required, how do you know who to trust? Not every auto-shop and service bay will have the necessary know-how or equipment to cover all your needs, so here are a few tips on what to consider for your car's repair needs.
For your classic / vintage vehicles:
Look for a repair shop with long-time seasoned mechanics. Many vehicles can be temperamental, especially the vintage and classics, so you want someone who has worked on them long enough to have an intuitive sense about what the car needs.
Many long-time mechanics have a passion for the older vehicles that stays with them long after they leave the service bay. They may even own a similar make and model to yours, so don't be afraid to ask very specific questions about what kind of older-model cars the mechanics have owned and worked on.
For your new luxury vehicles:
As vehicles become more sophisticated, so does the equipment needed to repair and maintain them. Not every mechanic has this equipment, nor do they all have the training necessary to run it. Be sure your mechanic has the highest level of certification available, which will make them an ASE L1 Master Technician.
Having up-to-date equipment isn't enough; shops also need to invest in the most recent software available. Not all shops invest in yearly upgrades, so be sure to ask. For example, a battery change for a BMW needs special software to program the car to accept the new battery. This is not your "normal" procedure of simply removing the old battery and replacing it with a new one.
Ask about the specific luxury brands they work on most often, including yours.
Any products used by the mechanic should be the same quality and brands the dealership would use. This includes using quality oils certified by the individual car manufactures.
At Kwik Kar here in Flower Mound, we have everything your luxury vehicle needs to stay maintained, as well as several associates who truly appreciate (and own!) older-model classics. Whether vintage or new, we are the service shop for you – so come on in today and let us help you keep the car of your dreams on the road for as long as possible!