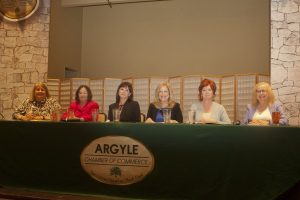 Take your life's work to the next level with coaching and tips from local leaders designed to increase the mark you leave on your community.
The Greater Argyle Chamber of Commerce 2017 Annual WALL (Women of Argyle Leaving a Legacy) Conference, with the theme: Impact & Influence: Mastering Leadership in a Changing World, is set for Wednesday, May 17, at the Robson Ranch Clubhouse.
Following's last year's successful conference, this year features renown business coach Cindy Mitchell, speaking on Change Management and Powerful Presentations. Time Management Expert and Author Lauren Midgley will pass on her efficiency tips. Local Author and Legacy Builder, Guy Hatcher, will challenge attendees to evaluate their impact on the world. Banker and community influencer, Lisa Cave, brings insights from her experience in building a community, as well as a career.
The goal, according to the Greater Argyle Chamber, is to foster business relationships and effective leadership among business owners, community leaders, entrepreneurs and non-profits.
The event is open to all of the Argyle community. Registration and sponsorship information is available at the Greater Argyle Chamber website: www.argylechamber.org.