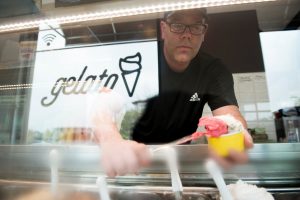 What do local business owner Richard Baldwin and Marco Polo, an Italian traveler born seven centuries ago who was employed by Mongolian Kublai Khan for 17-years, have in common?
You guessed it–both are/were fond of gelato. To clear up any questions held by the uninitiated, gelato is a luxury ice cream the world attributes to the Italians, but– truth be told– gelato was created by an unknown Chinese chef in the Middle Ages.
And it is probably a good guess that Kublai Khan, grandson of the great Genghis Khan and Chinese Emperor of the Yuan Dynasty, had a weakness for the stuff, too.
We will never know if the Mongol hordes stole the recipe during a burn-and-pillage adventure south of the Great Wall– then introduced this scrumptious sweet to their Italian visitor/roving ambassador– or if he got the recipe first, then made the introduction.
In any case, Polo returned to Venice around 1295 (that's 200-years before his countryman, Christopher Columbus, discovered the Americas) with recipes for gunpowder, spaghetti noodles and the silken, icy treat produced every day at Epic Gelato; Baldwin's eatery on a corner in The Shops at Lakeside on Flower Mound's Lakeside Parkway.
Baldwin started life in 1968 Mount Vernon, Ind.
"After high school, I became a Liberal Arts hippie at the University of Illinois," said Baldwin. "My bachelor's degree is in philosophy and photography."
So, what does a man do with those credentials?
"Me and my ponytail and combat boots became interns setting up scenes for Spiegel Catalogue photo shoots," he said. "Some of my coworkers pointed out I could get better pay if I looked more conventional. I'm a practical guy, so I got a haircut, bought a suit and in short order received a job offer from IBM."
It turned out a philosopher's ability to think analytically plays well in the business world. Baldwin had a long, successful career selling computer systems to large corporations worldwide.
"I traveled all the time in Asia, India, the Middle East and Europe," he said "Seeing how other people lived made me wonder if there might be more to life than being perpetually exhausted; albeit with a fat bank account. The Spaniards, just for example, work all morning, break for lunch and a siesta then spend late afternoon and evening at the office.  They eat dinner way later than Americans."
Baldwin's moment of crisis arrived one day in Italy.
"I was on the run and needed a caffeine fix, so I stopped at a café," he said. "Italian cafes are family-owned neighborhood spots."
He does a hilarious one man imitation of multiple loud Italian locals standing at the espresso bar talking, gesticulating, smoking, sipping then disappearing back into life's hubbub.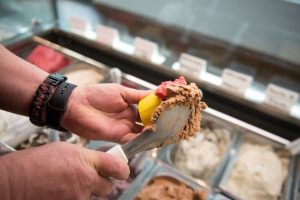 "The lady who owned the café served my drink in a fine porcelain cup," Baldwin said. "The simplicity and elegance caught my attention. She suggested I looked like I needed to slow down.  That irritated me.  I was too busy. She disappeared, then returned with an equally elegant bowl of gelato. 'A gift,' she said and motioned to me to eat. 'You should take time every day to enjoy life a little bit.'"
The tasty treat and its setting started him thinking more about his priorities.
"I was forever moving from one high-pressure work setting to another," said Baldwin. "Austin, Houston, Dallas, Silicon Valley, Seattle. I worked all the time and was always on the run; and, always tired. That's the American corporate badge of honor. My family life fell apart. I had spent enough time in Europe to see that other people viewed what was important in life through a different lens."
He found himself thinking about that far away family-owned café, the aroma and taste of fresh brewed espresso, the flavor and texture of handmade pastries and the smooth, cold gelato. Two years ago, he acted.
"I called a Baldwin family meeting," he said. "My mother, sister and I agreed to pool our creativity and resources and Epic Gelato was born. Ice cream shops don't flourish in Seattle and since I'd spent a number of years in sunny, warm Texas, we three-partners decided to locate the gelateria here."
Walk into the store and experience modern commercial Italy's white walls, sleek sparkling fixtures, comfy seating areas and cool tile floors. Why rush? Computer buffs can connect to the internet; grab Baldwin's scrabble or chess games; and, play anywhere inside or out on the patio. Like in Italy, one of the chatty owners is always present and they want to get to know their customers.
"The thing that makes us different from our competitors is our focus on family management, crafted elegance and top quality products," said Baldwin. "Ingredients are never more than two-weeks old. Our caffeine products are never more than three-weeks from roast. We use isolated plumbing for superior filtered water, so there are zero particulates and more minerals. Epic Gelato hot drinks, organic smoothies, flavored waters, soft drinks, pastries, cookies, donatos and frozen products wake up customers' taste buds.
Donatos? This is a Baldwin invention. Combine your choice of donut and gelato, and you have a one-of-a-kind treat to enjoy.
"We want to wow you with the difference between normal and exceptional," Baldwin said.
Barbara, the Baldwin matriarch, personally makes each day's fresh pastries right there in the store.
The millennial generation is the gelateria's market and Lakeside is an attractive up-and-coming place to spend a little down time.
"We buy as local as possible, place social interest above profit and are committed to our community, nation and planet," he said.
Epic Gelato backs the blue! On-duty police officers and firefighters partake for free.
How does gelato differ from ice cream?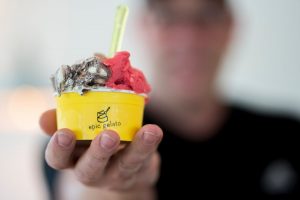 "To start with, it has more milk than cream, which makes for a silky-smooth texture," Baldwin said. "The fat in cream freezes into bigger crystals that taste good, but grainy. The gelato churn is slower and the paddles are bigger, so there is less air and denser volume. That– and the fact that gelato is served slightly warmer than tongue-numbing ice cream– means the flavors are much more intense."
In addition to gelatos, Baldwin makes sorbets; which are frozen creations composed only of fresh fruits, water and sweeteners.
"We have dairy-free options, so don't let lactose intolerance keep you away," he said.
The store carries the standard ice cream flavors– chocolate, vanilla and strawberry. From there, the menu launches off into Oreo cookie dough, birthday cake, lemon, lime and an array of combinations of fresh fruits and berries, exotic vanillas–beans from Tahiti, Madagascar and Mexico–and caramels. The chocolates travel to Flower Mound all the way from Italy and Belgium.
"I personally make four-liter batches of the gelatos and sorbets fresh every day and I listen to 'the muse' when it comes to ingredient combinations," he said.
Some of the 24 daily offerings will be unique to Epic Gelato. Baldwin's personal favorite is pistachio gelato with nuts shipped from Sicily.
The venue is open daily from 7 a.m. to 10 p.m.
His advice to the world is: "Take some time every day to enjoy life."
Epic Gelato is located at 2400 Lakeside Parkway, Suite 100, in Flower Mound.