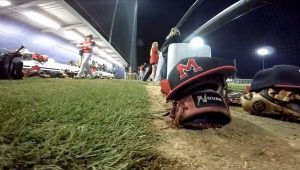 The southern Denton County region is well represented in this year's baseball postseason, as five of the six area teams qualified for the playoffs.
Argyle enters the postseason as the top ranked team among 4A programs in the state, with a record of 22-1-1.
Coach Ricky Griffin said his team is fired up about its first round match against Roosevelt.
"Our kids have been playing solid baseball this year, and I expect that to continue," Griffin said. "As you know, I always prefer a three game series, but if we play to our ability and show up ready to play, I feel confident we can move on to the next round."
Argyle will play Roosevelt at 7:30 p.m. Friday at Argyle High School.
In Flower Mound, the Jaguars, Marauders and Coram Deo Academy all made the playoffs and all have a shot at advancing.
Flower Mound finished second in the district 5-6A standings behind state powerhouse Southlake Carroll, and coach Danny Wallace said he expects his team's series with McKinney to be a tough one.
"It should be very tight and competitive," Wallace said. "They are a very sound club with good pitching.  It will come down to doing little things right and execution on offense when the chance presents itself."
The Jaguars will play McKinney at Prosper High School starting at 7:30 p.m. Friday, with a second game at noon on Saturday and third (if necessary) immediately following.
Coram Deo hammered its way into the playoffs this spring and started the postseason this afternoon with Arlington Pantego Christian.
The Lions were on a five-game win streak headed into the postseason, averaging more than 14 runs per game during that span.
Two more of our local teams will lock horns on Friday night, as Marcus (20-10) and Guyer (19-13) meet up to do battle.
Marcus coach Jeff Sherman said the Wildcats have come a long way this season and said he expects a good series.
"I believe Guyer has gotten way better," Sherman said. "Pat Watson has done an outstanding job with them during district. They are pitching very well and throwing a lot of strikes. Their hitters are working in positive counts and executing while men are in scoring position. It's going to be a battle and a great series. It always comes down to execution in playoffs."
Guyer Coach Pat Watson said he believes his team has come a long way as well and will certainly have its hands full with the Marauders.
"I think it should be a fun series," Watson said. "We scrimmaged and played Marcus early in the year, but we are a different team now.  Marcus has depth at pitching with their #1 committed as a sophomore to play for Texas A&M.  Marcus has a three-year starter at shortstop who can beat you with one swing of the bat.  I expect the games to be tight.  The team that makes the fewest mistakes both on offense and defense should be the team that comes out on top."
Marcus defeated Guyer by a score of 12-0 on Feb. 23, and Watson said his team will not only have to overcome that to win the series, but also overcome tradition.
"Marcus is a team that has traditionally made the playoffs and we are a team that has surprised a lot of people this year, and we are playing loose and relaxed," Watson said. "I can see this series going three games with pitching depth being the difference maker."
Marcus and Guyer will play at 7 p.m. on Friday at Hebron High School, with game two at noon on Saturday followed immediately by game three (if necessary).
Lewisville (20-9-1) will face Allen (20-10) in Allen on Friday night at 7:30 p.m., with game two and three (if needed) starting at noon Saturday at LHS.
Follow us on Twitter for game updates this weekend.