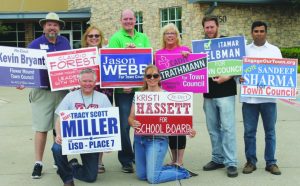 Early voting is over and southern Denton County residents have one more chance to visit the polls this Saturday to elect municipal and school board candidates in a number of local races.
There are contested elections in Argyle, Bartonville, Denton, Denton ISD, Flower Mound, Lewisville, Lewisville ISD and Northlake. Several city charter amendments are on the ballot in Highland Village. In addition, school bond packages will be decided in the Argyle ISD and Lewisville ISD.
Meet the candidates and learn about the issues here.
Voting
Polls will be open this Saturday from 7 a.m. to 7 p.m. Voters must cast ballots at their designated polling place.
In Flower Mound, those who live west of FM 2499 and east of Apache Trail will vote at the Flower Mound Public Library, 3030 Broadmoor Lane. Those west of FM 2499 and west of Apache Trail will vote at Argyle Middle School, 6601 Canyon Falls Road, and those east of FM 2499 will vote at Flower Mound Municipal Court building, 4150 Kirkpatrick Lane.
Visit www.votedenton.com or call 940-349-3200 to find your polling location.