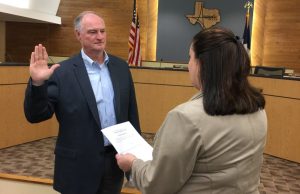 The Argyle Town Council on Tuesday voted to accept the resignation of Place 3 Council member Eric Lamon, who is relocating to Little Elm.
Council unanimously voted to appoint Jon Donahue to fill the remainder of Lamon's term expiring in May 2018.
Donahue moved to Argyle in the mid-90's and has been an active member of the community for the past 20 years, according to a press release from the Town.
He started as a volunteer firefighter with the Argyle Fire District in 2000 and has served many roles, including Assistant Fire Chief.
Additionally, Donahue sat on the Argyle Fire District Board from 2000-2014. In 2013, he was appointed as a commissioner on the board of the Denton County Emergency Services District #1, the political subdivision responsible for providing fire protection, prevention and educational services to Argyle and surrounding communities.
Donahue also served on the Town's Planning and Zoning Commission from 2002-2003.
He has been a member of Argyle United Methodist Church for nearly 20 years and works for a Dallas-based real estate investment firm.