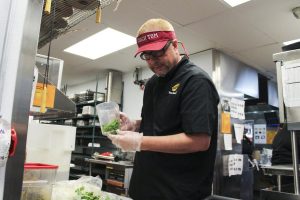 Michael Roper, president and CEO of Taco Bueno, will be featured on the hit series "Undercover Boss," this Friday, April 28, at 7 p.m. on CBS 11.
The Flower Mound resident has headed the Tex-Mex chain since July 2015 and previously served as Chief Operating Officer and Chief Technology & Development Officer.
"Undercover Boss" is a two-time Emmy Award-winning reality series that follows high-level executives as they slip anonymously into the rank-and-file of their own organizations.
"From working with our front line team members who deliver the best they can every day, to working operationally in the warehouse, the experience was something I never thought I'd have the opportunity to do," Roper said.
"I'll be honest, though. I did crash and burn when tasked with operating a forklift in the warehouse. But the overall experience is one that I have been able to take back to the boardroom with a fresh perspective that only comes when you can truly go undercover."
He continued, "It comes as no surprise that I think our tacos are the best, but it's the people behind the curtain who make this company Bueno. Everyone deserves Bueno."