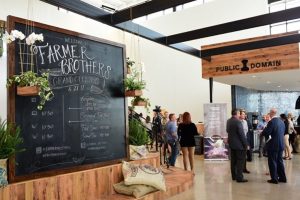 Farmer Brothers, a national coffee roaster, wholesaler and distributor of coffee, tea and culinary products, celebrated the grand opening of its new headquarters and roasting facility in Northlake.
On Thursday, Farmer Brothers hosted a ceremonial "first roast" at its newly constructed headquarters located near I-35W and Hwy 114 across from Texas Motor Speedway.
"We're excited to begin the next chapter in our company's growth from our beautiful new home in North Texas," said Farmer Brothers CEO Mike Keown. "We anticipate bringing about 225 new jobs to the area, and we're looking forward to becoming an integral part of Northlake and the surrounding North Texas region."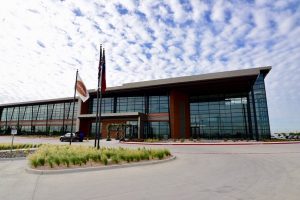 Farmer Brothers' new headquarters encompasses roughly 538,000 square feet. Just over half of that–315,866 sf, or more than five football fields– is devoted to the distribution center.
Initially, the roasting plant will be able to roast approximately 24-28 million pounds of coffee annually, with the capacity for significant growth in the future.
"We worked with the corporate and municipal leadership on a competitive incentive package to attract them to our county. This relocation means several hundred new jobs ranging from product manufacturing, distribution, to sales and marketing," said Andy Eads, Denton County Pct. 4 Commissioner.
In keeping with the company's dedication to sustainability in all its operations, Farmer Brothers' administration area is expected to be LEED Silver Certified.
As part of the qualifications for Silver certification, the water-efficient landscaping around the perimeter of the building helps reduce water usage, reflective paving and roofing materials combat the "heat island" effect and minimize the cooling load on the building, and low-emission LED lighting contributes to energy efficiency.
Additionally, 10% recycled content was used in building construction.