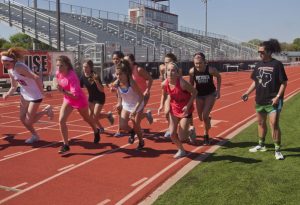 Track and field season is underway for the schools of southern Denton County and hopes are high for the area's sprinters, distance runners and field athletes.
The region was well-represented at the area, regional and state-level meets last season and it appears that not much will change for 2017.
The Liberty Christian boys and girls track teams both finished second at the TAPPS 6A State Championships in 2016 and girl's coach, Zack Vest, said his team is looking to pick up right where it left off.
"Our hope is that our team will defend its title for the third consecutive year at regionals," Vest said. "We were state champions two years ago and state runner-up last year. We also have some individuals that should compete well at the state level."
Elizabeth Reneau is one of the top distance runners in the state and will compete in the 800-, 1600- and 3200-meters this year for Liberty Christian.
Texas A&M commitment Maddie Willet is the defending State Champion in the 100-meter and will also run on two relays.
In addition, Lexi Mahon is currently the top shot-putter in the state among private school athletes.
"Interestingly, Mahon is also a member of our 4×400-meters relay team and runs the open 400-meters as well," Vest said. "She has a chance to qualify for state in all three."
University of Nebraska commitment Eboni Washington runs both the 100- and 300-hurdles events and should qualify for state in both events. Fellow hurdler Natalie Grigg runs the 300-hurdles and came in third at the state meet last year, and should qualify again.
Alex Davis has one of the fastest times in the 100 meters and 200 meters in private school, and Izzy Hopkins, who is just a freshman, has one of the top long jumps in the state in private schools and will compete on two relays and either the 100 or 200 meter event.
Morgan Monschke has a good shot to qualify for state in the 800 meters and 1600 meters and competes on the girls 4×400 relay.
On the boys side at Liberty Christian, Coach Trent Vest said it could be a little bit tougher for the Warriors this season, because Liberty was hit pretty hard by the 2016 graduation, but said he is still optimistic his team will compete well.
"We have a lot of youth on our team this year, as well as a lot of inexperience," Vest said. "The boys are working hard and are improving each day.  By the end of the season, we should be competitive across the board."
Vest is looking for Brooks Talkington– in the shot put and discus, as well as his three relay teams– to help lead the way for Liberty this season.
"The goal is to improve every day," Vest said. "Each track meet, we want to take a step forward into continuing the tradition of excellence we have set here over the last decade or so."
He added that Matthew Grigg and Christian Pikett in the hurdles, plus distance runner Paul Anderson, 1,600- and 3,200-meters and Jordan Gledhill in the 800- and 1,600-meters races should have strong showings in 2017.
"Our goal this year and every year is for others to see the way we compete and see that our team is different," Vest said. "We have the word Christian in our school name and want to make sure we represent Christ in all we do. Our goal specifically this season is to compete well at the state meet and try and win it all.
"Houston St. Agnes is very strong and won it last year and are the front runners to win it again. I like where we are as a team, and if things go our way we have a chance."
Following the Texas Relays on March 31 and April 1 held in Austin, the TAPPS 6A North Regional event is held on Thursday, April 27. The TAPPS State Championship is on Friday and Saturday, May 5 and 6.
Up the road at Argyle High School, Coach Kathi Olson said she is just now getting her girls team in place and said, so far, things are looking pretty good.
"We are coming along well and we are just now getting all of the athletes from other sports," Olson said. "We are young; with the majority of the team being freshmen and sophomores. With a new District this year [UIL 4A-District 9] I am hoping for a solid showing and advancement to the area meet."
Olson said she has a number of strong returning athletes this season.
"We have two very good high jumpers in Vivian Gray and Abbi Neece– both getting 5'4" last year [for] a new school record [that] they jumped at region. And, both are also in individual running events and Vivian is on a relay
," Olson said. "Abbi has already cleared 5'6," setting a new school record. Madison Peltier in the long jump, 300-meter hurdles, 4×400-meter relay and taking on a new race this year, the 800-meter run, should do well.
"She is close to breaking the school record for the 300-meter hurdles from 2007 held by Brooke Shepherd. Young distance runners Lanie Rodgers, Tatum Gregston and Rhyle McKinney in the 800-, 1,600-, and 3,200-meters are doing well. And, Kennady Poling is doing five events this year: two relays; one individual race; the pole vault; and, the triple jump."
Olson said the objective for Argyle this season is to "advance to the next level as many [athletes] as possible. With that goal, [it] will bring points that will help with winning team championships at each level."
On the boy's side at Argyle, sophomore Lucas Van Alstine finished eighth at Regionals last year in the 800-meters and Ben Splain was fifth in the 3,200-meters.
Dane Ledford was second at region in the long jump, and Jake Vanpatten was second in the pole vault.
Casey Harper finished fourth in the shot put and Trent McCloud was eighth in the boys High Jump event for Argyle at region.
The 2017 UIL 4A-District 9 State Championship is scheduled from April 10 to 12.
At Denton ISD's Guyer High School [UIL 6A-District 6], boys Coach J.D. Aaron said things are shaping up well for his boys team this season to advance several athletes beyond the District meet.
"We have seen great progress and success throughout the season, thus far," Aaron said. "We have been consistently dropping times and bettering PRs [personal records] as we move through the year. I am very proud of the way our kids have worked since the end of last season to get to this point. I credit the strong senior leadership which has taken over this as their program. They have done an outstanding job being good role models and setting the example for the younger athletes."
Aaron said that Javan Reece has a good shot at making the Regional Track Meet in the 110-meter hurdles and 300-meter hurdles and possibly making a state track meet appearance.
Kevin Metzler in the 800-meters and Matthew Morgan in the 1600-meters are making a good push and should make the area meet.
Brock Thompson is posting good times in the 100-meters and 200-meters and looks to qualify for the Regional meet.
The boy's 4×200-meter relay of Asa Harris, Javan Reece, Joseph Fletcher and Brock Thompson has a good shot at making some noise at the regional meet, as well.
Aaron said the goal for the Guyer boys this year is "to consistently work for and with each other to better our PR's, compete at a high level, and push as many kids to postseason track meets as possible."
On the girl's side, Eni Akinniyi finished fourth in the triple jump at the area meet last year for the Lady Wildcats, while Taylor Tolen was third in the 100-meter dash and has a good shot at qualifying for the Regional meet this season.
The UIL District 6A-All District State Meet is at the University of Texas-Austin Mike A. Myers Stadium on Thursday through Saturday, May 11 to 13.
For Flower Mound High School [UIL 6A-District 5] track and field team Coach Andrew Cook said he is feeling very good about the progress his team is making early on, as well as the general composition of both boy's and girl's squads.
"Our team is off to a good start with many of our athletes setting personal records," Cook said. "I feel this is one of the most well rounded teams for girls and boys we have had in the past few years."
Cook said some of his stronger efforts this season have come from Tonia Adeyemi (100-meter hurdles, 300-meter hurdles, and high jump) and Laura Fairchild (1600-meter and 3200-meter meter runs) on the girls side; and, Addison Roberts (110-meter hurdles, 300-meter hurdles) and Alex Maier (1600-meter and 3200-meter runs) on the boy's side.
"Our goal this season is to advance as many athletes as possible to the area meet and field a team that is competitive in all events," Cook said.
Across Flower Mound at Marcus High School [UIL 6A-District 6], the return of last season's State Champion pole vaulter Makenzie Hayward is a big boost for the Marcus girls; and, teammate Kyndal McKnight, a silver medalist at State in the triple-jump, is also back for the Lady Marauders.
A victory for Nicole Ume-Ezeoke at the Goldsmith Relays in the 100-meters on March 9 bodes well for her chances at District; and, Taryn Hankins, who finished fourth in the girls 200-meter sprint at State last season also returns for the Lady Marauders– and looks like a lock for a return to the State meet.
Quinn Owen finished fourth at State as well in the 800-meter event and is back for Marcus, as well.
On the boy's side, the Marauders lost all three state qualifiers to 2016 graduation, but do get back Harrison Dodson, who finished ninth in the triple jump last season for the Marcus boys.
Dodson should also compete for District titles in the 110 and 300 hurdles events.
Jacob Egan, who finished eighth at the area meet in the 800-meters last season will also help lead the way for the Marcus boys team, along with Lorenzo Daniel in the triple jump.