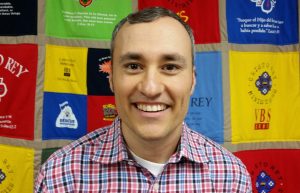 by Pastor Jahaziel Cantu, Iglesia Gracia Flower Mound
God can give you peace we don't understand. The apostle Paul understood this when he faced big problems: time in jail, desertion by friends, an unspecified "thorn in his flesh", sickness, and more. Though Paul's situation in life deteriorated, God gave him a peace which would seem surprising to most people.
Are you facing a difficult situation like Paul, or even worse? Our tendency is to view our problems as so big that we cannot see God. Or perhaps we make God "small." However, it is during such times that we most need to remember that God is in control of everything, and He has a plan for our lives which gives us hope and peace unimaginable.  If you understand and believe in the good news of Jesus Christ, then you have confidence and hope bigger than any loss, problem or crisis that may come.
I was personally reminded of this last week when I had my 6-month cancer check up. Because I focused on sickness and unknown test results, not on God's mercy, I was anxious and distressed. How easy it is to focus on the difficulties in front of us! We need to remember that the Lord who created the universe controls every single situation in our lives. He has promised a peace to "guard their hearts and mind in Christ Jesus."
Present your problems with thanksgiving to God, trusting in Him in every area of your life. When you thank God even for difficulties, you declare that you are depending on Him for mercy and rescue. You begin to recognize that everything in life comes as a gift. Paul understands what spiritual joy and peace means. He understands that the kingdom of God is righteousness and peace and joy in the Holy Spirit (Romans 14:17- 15:13). He knew that, two thousand years ago like today, people followed their own desires, lies, and idolatry instead of the true God. So Paul encouraged the Christians to meditate, to think on, and bring to the front of their minds these virtues from verse 8, because he knew such virtues would remind us of our savior, Jesus Christ.
At Easter, we remember that Christ experienced first hand the "anxiety-producing" fragility of life, when he suffered the worst death possible for you and me. In His own death, He trusted and obeyed his Father with his life because he knew his Father's love and good plan. Now we especially celebrate that He is raised from the dead! He defeated death and sin. And He will raise you with him when you acknowledge that you have hope in Jesus that is bigger than any loss, problem or crisis that you encounter.
We must remember when problems come that our Savior Jesus Christ is our rock, fortress, refuge, shepherd, stronghold, shield and strong power (Ps 9:9, 18:2, 23:1, 94:22, 144:2). He is the only one you can trust!
The Pastor's Place features columns written by a different area church leader each month.Call 940-728-8284 for more information.