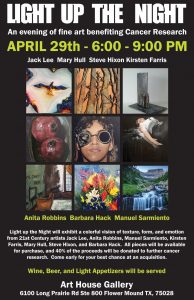 A local gallery is holding an art show for a good cause.
"Light Up The Night" on April 29 will exhibit a colorful vision of texture, form and emotion from local artists Jack Lee, Anita Robbins, Manuel Sarmiento, Kirsten Farris, Mary Hull, Steve Hixton and Barbara Hack.
All pieces will be available for purchase and 40 percent of the proceeds will be donated to further cancer research. Wine, beer, and light appetizers will be served during the exposition.
The event runs from 6 to 9 p.m. on Saturday, April 29, at the new Art House Highland Village location in the Highlands Ranch Shopping Center, 6100 Long Prairie Road #800, Flower Mound.