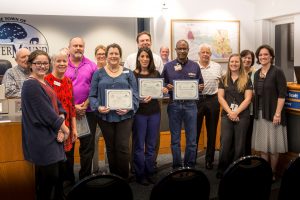 The Flower Mound Town Council meeting on Monday began with good news for the town in the presentation from the local environmental group, Keep Flower Mound Beautiful (KFMB).
The state group, Keep Texas Beautiful (KTB) named KFMB as the 2017 winner of the Governor's Community Achievement Award (GCAA), for communities with a population of 45,001 to 65,000, one of the most-coveted environmental and community improvement awards. In the same category, Grapevine was second and Haltom City ranked third.
Communities submitted materials to one of 10 population categories and judges chose the winners based on their achievements in seven environmental and community improvement areas: community leadership and coordination, education, public awareness, litter prevention and cleanup, litter law and illegal dumping enforcement, beautification and community improvement, plus solid waste management.
In 2016, for example, KFMB removed 38,901 pounds of waste, while volunteering 5,171 hours.
In addition, the revamped Adopt-A-Spot program removed 1,940-pounds of trash, collected 710-pounds of recyclables from 38 Spot locations, including six beautification sites.
The work continued April 1 with the annual Trash Bash when volunteers collected 2,780 pounds of trash, 1,880 pounds of recyclable items and 15,000 pounds of paper that were either recycled or shredded. Town Council formed the KFMB Board, seven members with two alternates, in 2003.
"This really shows that KFMB has a purpose and that we're valuable to the town," said KFMB President Marilyn Lawson. She was named as the state's Volunteer of the Year by KTB.
Lawson has spent years working to make Flower Mound a better community and organizes several events benefiting the community. In 2013, she began the Lend-a-Hand Community Initiative, which assists Flower Mound homeowners unable to take care of home repairs– due to age, illness, or loss of income. In the past four years, the program has completed 29 projects.
The GCAA program has recognized outstanding communities for more than 30 years, with the Texas Department of Transportation (TxDOT) providing landscaping funding since 1985. The 2017 winners will share $2 million in landscape funding from TxDOT.
Flower Mound will receive up to $250,000 for a landscaping project along a local TxDOT roadway. KFMB will receive its award on Tuesday, June 13, in San Antonio, during the 50th Annual KTB Conference.
Finally, the Town of Flower Mound won third place in the Keep Texas Beautiful Media Award for its "Bad Neighbor" series, which encourages residents to "know the code" and to dispose of hazardous materials properly. Which provided a sort of segue for local commercial real estate developer and Flower Mound realtor, Todd Weaver, to step to the podium during the public participation segment of the council meeting.
"You might've heard that there's been a video going around … Mr. [Itamar] Gelbman shot that video carefully to crop out the existing client of the building that he declared the building to be vacant," said Weaver.  "The owner of that building is a local resident of Flower Mound and owns a business here in Flower Mound—as well as 13 others across the state. He built the building, without asking anyone for a penny … and he felt wronged [by the misleading video]."
The owner himself occupies 2,000-square-feet, with other tenants taking about 6,000-square-feet—for a total of about 8,000-square-feet, or 57-percent occupancy.
Weaver asked Gelbman, who is running for re-election to his Place 5 seat on Town Council, why, if he was so concerned about vacancy rates [for commercial space], he had voted to approve the Master Plan amendment and site plan for the building.
"If you were so concerned about this, you could've called me or one of my competitors for help with this," said Weaver.
Gelbman said he'd called Weaver two years ago and wasn't called back. Weaver said: "I didn't get it."
He added that he's calmed down the building owner and let him know that the town still believes in him.
He told Gelbman: "The next time you need data, come to me; don't do that [create mis-information to support his statement].