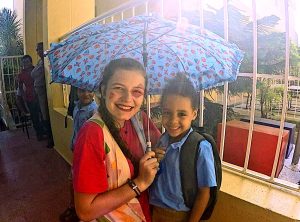 (EDITOR'S NOTE: Liberty Christian School student Sydney Duininck spent Spring Break on a mission trip to the Dominican Republic with her fellow students and teachers. Here are her reflections on the trip:)
Sacrifice is not a word typically associated with Spring Break, but for the students at Liberty Christian, it has become the norm.
For 20 years, teachers and students have decided to say "yes" to the voice of the Lord and travel wherever God leads. This year, He called us to the Dominican Republic. After training, worshipping, praying, and praying some more, 164 students and 18 faculty members took a step of faith onto the airplane – the first of many steps we would take that week.
Three hours after the last plane landed in the country, we were up and ready to serve. A few teams, including mine, had the opportunity to attend church, where we experienced first-hand the power of God. He is not and can never be limited by a language barrier. Whether it's in worship or conversation, He will be glorified.
God gently gave us servant's hearts this week through many experiences and situations.
The first was in manual labor, the bane of most suburban teen's existence. Each team worked long hours together to build houses, lay foundations, and meet the needs of the community around us. In the midst of the sweat, laughter, and the occasional groan, God showed us the kind of compassion He has called us to have: the kind that not only meets the need but does so with a smile and a song of praise. So, when a mother showed us her family's home that resembled my own bedroom in size, compassion struck. Building an addition to her home was no longer a chore or a responsibility but a blessing from God in which we could put our newfound compassion into practice.
The rest of the week, we continued to serve but in a different way. We had already experienced the reward of working on churches and homes, but now it was time to work on hearts through a drama we learned at school. It conveyed our need for grace, and the sacrifice that a Father made for His children because of that need. Students also had the opportunity to share their testimonies – testaments of their trials, their God, and their trust in His faithfulness to carry them through life. After each performance, we took steps of courage into the crowds of people – adults and children whose language was different from ours, but whose needs were the same.
We learned to listen, engage, love, and appreciate the worth of every single child of God we met. Some were broken and lost. But then, many were healed and found. I could never imitate the smile on a little girl's face as she believed for the first time that she was amazing because she was a daughter of the King. We learned to look people in the eye and say, "I've met a God who restored my past and secured my future. Can I tell you about Him?" We saw hearts softened and identities discovered. We saw the name of Jesus lifted high. That is the Gospel.
At the end of each day, we reconvened for a time of praising God. Worshipping became our way of saying "thank you" to our King, but also the time where we begged for more of Him. So often it is in the feeding of others that we rediscover our hunger for Him.
God was so good on this trip, and His goodness was evident in every step that His children decided to take. I cannot fully describe the joy that radiated from heaven and into the hearts of our group when more than 50 Liberty students publicly declared their faith through baptism, showing as they came out of the water that they were new in Christ.
What I can say about the trip is this: God is still working. He is not done with us, with the Dominicans, or with any of His children. He is good, He is constant, and He is loving. His grace is sufficient, and with this truth in our hearts, we will climb this mountain of life with our hands wide open, worshipping and surrendering to our King.
Sydney Duininck