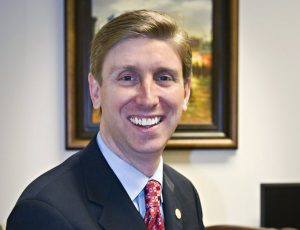 Your Texas Legislature has officially passed the halfway point and members continue to work through the state's priorities as well as individual bills that are meaningful in serving the needs of Texans. There are several topics of policy that I have worked on this session as part of my bill package including combating human trafficking, protecting the elderly from financial abuse, protections for children, and improvements to the financial services sector to name a few.
As much news around the 85th Legislative Session will be centered on the budget, education, mental health, and improving Child Protective Services, I want to share information about three bills that I am working on that will ultimately improve the health and well-being of those who are impacted by severe and chronic medical illnesses.
Prior to the start of the legislative session, I officially filed House Bill 661 or the "Medical Freedom Act", and it may sound a little familiar to a bill that I was also an author of during the 84th Legislative Session in 2015. That specific bill, known as the "Right to Try Act", was passed into law to allow those who suffer from terminal diseases access to drugs that have not yet been approved by the U.S. Food and Drug Administration (FDA). The proposed Medical Freedom Act this legislative session will allow people who live with chronic disease the same access to non-FDA approved medications that the terminally ill now have.
People living with the debilitating effects that chronic diseases impose on everyday life do not have the luxury of time on their side. Knowing there may be a medical solution still in the clinical trial phase of the FDA approval process that could be of immediate assistance in alleviating excruciating symptoms or pain that a patient is experiencing on a daily basis has motivated me to extend the opportunity provided by Right to Try to the chronically ill. It truly is the difference between suffering and living – and I believe there are times when obstacles must be moved to provide the relief needed to regain the ability to function.
In addition to the Medical Freedom Act, House Bill 810 was also filed prior to the start of the session. Though similar to the Medical Freedom Act, it specifically involves allowing those who are terminally and chronically ill to access investigational, adult-sourced stem cell treatments. The words "stem cell" often carry a negative connotation due to past studies in which stem cells were tragically and unnecessarily being retrieved from embryos. Please rest assured that this is not the case with HB 810 as the use of stem cells will only be procured from consenting adult donors.
Currently, the FDA does not allow adult stem cell treatments in the United States; however, clinical trials in countries like Panama and Costa Rica have shown adult stem cell treatments to be beneficial in healing, repairing, and treating. There are a number of institutions in Texas that are doing adult stem cell research, yet are prohibited from utilizing the benefits for those in the greatest need. Research has shown great promise that adult stem cells offer numerous benefits. By advancing this legislation, Texas can lead the way as the first state to allow adult stem cell treatments for terminally ill and chronically sick patients in the United States.
The final piece of medical-related legislation I want to inform you all about this session touches on a horrific disease that sadly impacts every Texan in some capacity. Due to the commonality of this illness within our society, one can pretty easily deduce that I am talking about cancer. This session I authored House Bill 3721, also known as the "Improve Patients Right to Cancer Clinical Trials Act", with the intent to establish a program in our state that encourages greater cancer patient access and provides a funding mechanism for those who would not be able to afford attending a clinical trial.
The continuance of successful cancer research relies largely on obtaining a robust and diverse pool of participants, however, it has been found that the expenses incurred during clinical trials too often limit individuals from being able to participate. Clinical trials have brought doctors so far in their efforts in finding causes and cures for cancer. If more people are allowed to participate in research studies, then Texas is that much closer to not only providing further treatment options for our state, but the rest of the world as well.
The regulation and approval of medical drugs by the FDA is necessary and important, but in the event that a person's life and well-being are at stake due to a terminal illness or severe chronic disease, investigational treatments should be made available to patients as an option. In these instances, not only are individuals provided with a chance of achieving wellness that they otherwise may not have had, but they are in turn furthering research that will assist in combating future illnesses. It is my hope that this legislation will establish Texas as a state that can include medical liberty in the list of freedoms that we currently are so blessed to provide.
As always, it is an honor to serve you in the Texas House of Representative, and I welcome your feedback on this and any other critical state issues. If you would like to share a thought with me, please feel free to contact me at my Capitol office at 512.463.0688 or by email at [email protected]