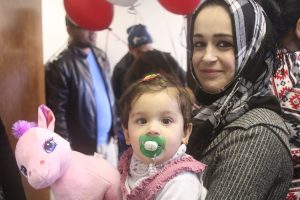 Sumitted by Clairissa Cooper
Woven within the fabric of the Dallas-Fort Worth community are men, women and children who simply want to fit in. They are refugees. Their countries, cultural backgrounds and stories cover a vast array of experiences, but their goals are one and the same — to have a safe place to live, a future for their children, a shelter over their heads, employment, and even just someone to call a friend. These are the greatest desires of their hearts and yet these very same things are what many people around them take for granted.
Open hearts, fresh starts is the motto of the Refugee Services of Texas (RST). The Dallas branch is one of six agencies in the Dallas-Fort Worth area that are specifically trained and equipped to handle refugee resettlement cases from start to finish.
A tour of the RST office facility proves heartwarming. Their offices are full of smiling employees, busily running around with purpose and an overwhelming desire to offer help. Hallways are lined with boxes of donations waiting to be organized and put away. The front reception area is full of families, faces lined with uncertainty, but eyes glimmering with hope. A glance into their already too-small and overstuffed storage room shows a wall of diapers, formula and baby supplies. Opposite that are shelves of bedding, lamps, pots and pans, dishes and various other household sundries.
Refugee Services of Texas 
RST has been resettling and supporting refugees since 1978. Their primary focus is to help refugees integrate and thrive in the community through a myriad of programs that assist with housing, furniture and daily-living needs, transportation, employment, language learning, immigration and much more.
"Our goal is to help our clients get settled and be in a place where they can reach their goals," said Lindsay Mvalo, Area Director of RST.
RST assisted 702 refugee arrivals last fiscal year and have resettled 324 refugees so far in the current fiscal year.
Mvalo shares another goal: to dispel stereotypes and hesitancy to assist refugees.
"There are a lot of opinions out there about refugees," said Mvalo. "They are families just like the rest of us: people who want a happy home, a good job, an opportunity to improve their circumstances."
Many refugees are in camps for years, decades, and some their entire lives before they are identified as a candidate for processing by the United States. It's a long, tedious process. Refugees are first identified by the United Nations High Commission for Refugees (UNHCR) or sometimes an embassy before the United States begins interviews and security checks. Once processing begins, it takes an additional 18-24 months before the refugees receive approval for placement.
Self Sufficiency and Employment
Self sufficiency is paramount to the success of the refugees. From the moment of arrival to the United States, RST's programs are designed to have a client self-sufficient and self-supporting in 120 days.
"We're meeting that goal," said Mvalo. "Clients are receiving employment quickly."
First order of business is to apply for and receive a social security card.
"We immediately take them to find work. We teach them how to work in the U.S., how to look for jobs, call employers, fill out applications, and coach them on how to do their job," said Bernadette Musekura, RST employer relations coordinator.
"Refugees are hard-working people. Once they get a job, they don't want to leave. They work as much as they can because they know that is how they can pay for rent and everything they need."
Musekura understands the challenges that come with transitioning to a new country and culture. Though not a refugee herself, Musekura immigrated as a student from Rwanda after the 1994 genocide. She completed a masters degree in psychology, speaks five languages, and is a strong advocate for refugees finding stable employment and eventual financial success.
All refugees assisted by RST are legally authorized to work upon arrival. And job opportunities have proved plentiful for them. Many work at airports, in food preparation or in janitorial work; others work in security at retail locations and as shelf stockers. There are positions at cell phone companies, meat processing plants and more.
Within a month they have a social security card and a job. Oftentimes by the end of four to five months, they have a car.
The Miracle of Volunteers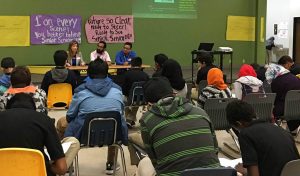 The true magic happens when the gap is bridged between RST programs and the services and emotional support a volunteer can offer. Volunteers play an integral part in helping refugees assimilate and become well-adjusted, successful members of their communities.
Back at the RST office, two women walk in carrying heavy bags and boxes, bringing donations of bedding, household and kitchen items and other supplies.
Linda Cotton and Teresa Weaver, of Flower Mound, Texas, are comfortable here. They've caught the self-proclaimed service bug and RST is their favorite place to serve. The boxes of items are the least of their efforts, having volunteered for months to collect furnishings, household items, and food, as well as provide transportation for newly arrived refugee families.
Cotton and Weaver have been the welcoming faces of Dallas to many refugee families from Syria, Somalia, Iraq, and Afghanistan. Their latest efforts involve a Syrian family that arrived from Egypt on a red-eye flight. Life in Syria had become too dangerous for the family and so they fled to Egypt and lived there for the past four years, waiting for a chance to restart their lives.
"The mother kept saying, 'I love you, I love you. Thank you," said Cotton, who has volunteered with RST since September 2016.
"Service of this type ends up being very rewarding. If you ever have a time when you're feeling down on yourself, go out and do service because it really does buoy your spirits."
Cotton, who travels with her family to Guatemala every summer to help families in what she calls 'charity tourism', felt a pull to narrow her search and find those in need right where she lives.
"I listened to talk given by The Church of Jesus Christ of Latter-day Saints where they talked about refugees. They asked, 'What if their story were your story?' That really spoke to me," said Cotton.
"Dallas is my own backyard and these are people in need of our help. Find someone who is in need and help lift them up."
Many Arrive With Nothing
Many have entered the United States with little more than the clothes on their backs. RST is given a one-time cash assistance of $925 to use per individual that is used to rent an apartment and purchase a new bed as well as basic household supplies before the individual arrives.
"The State Department has a very specific list, down to how many forks per person and what furnishings must be provided. This is why donations are key," said Mvalo.
The more furniture and household supplies are donated, the further their money will stretch for food and rent."
Recently, Cotton and Weaver rented a large moving truck to load and unload furniture donations that would wait in a storage unit until a refugee family was identified by RST.
Together, they have set up many apartments — often the first home for a family since leaving the refugee camps. The efforts involve a great deal of organization, checklists, logistics, and manpower. Together they communicated with their local Latter-day Saints congregations in Flower Mound, Lewisville and Highland Village to collect items, all of which were fulfilled, to complete a four apartment set ups.
"It's so fun to get everything together that has been donated and set up an apartment," said Weaver. "We decorate with what we have and make it look like a home. We try to make it a place that we'd want to move into ourselves. The hodgepodge of donations make it eclectic, but so welcoming."
After the apartments are arranged, Cotton and Weaver pick up the families from the airport and oriented them to their new home.
"When the family went in, you could see their excitement," said Weaver. "The mother walked in and sat on the couch and looked so relieved. It's as if a huge burden was lifted off her shoulders. The look on her face said, 'You are home, you're safe, it's over. And now it's time to start a new chapter.'
"A home is such a fundamental, basic need. Everything radiates from there. When you don't have a home, you don't have anything. It's such a blessing to be able to help other people who have had their lives so disrupted and only want to get back to normal."
Cotton and Weaver serve in the name of The Church of Jesus Christ of Latter-day Saints' organized refugee relief effort called "I Was a Stranger," which encourages its members to seek out refugees living in their neighborhoods and communities and look for opportunities to serve one on one, in families, and by organization to offer friendship, mentoring, and other Christlike service.
Integration Is Key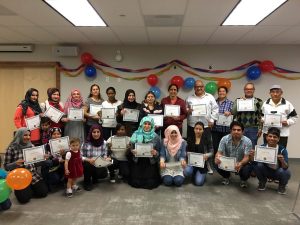 Sarah Roskam, volunteer coordinator with RST, notes that cultural integration is the single greatest indicator of success.
"The more a refugee becomes connected to an American community, the more successful they are. Every single time. They learn English faster, learn American custom and cultures more quickly, have better jobs, and are more confident and happier when they have people they are connected to."
Roskam says there is a bit of an awareness gap when it comes to refugees and Dallas area residents.
"A lot of the refugees we work with aren't ever able to make an American friend, but a lot of them crave that connection," said Roskam.
According to the The Church of Jesus Christ of Latter-day Saints, there are more than 60 million refugees, including forcibly displaced people, worldwide. Half of those are children.
"These individuals have undergone tremendous difficulties and are starting over in … new countr[ies] and culture[s]. While there are [sometimes] organizations that help them with a place to live and basic necessities, what they need is a friend and ally who can help them [adjust] to their new home, a person who can help them learn the language, understand the systems, and feel connected," said Linda K. Burton, Relief Society General President of The Church of Jesus Christ of Latter-day Saints.
RST offers a mentoring program where someone can be a friend, talk English with them, take their families to the zoo and local sites of interest to share a day out together.
"To put together an American who has never met an Iraqi and an Iraqi who has never met an American, there is a unique growth that occurs within that cultural connection," said Roskam.
Cotton has seen the benefits of developing friendships with refugees firsthand.
"These refugees are overcoming insurmountable odds. The whole process has increased my own gratitude," said Cotton. To work with people who are so excited and so grateful to start a new life really changes my own perspective. The amount of gratitude these people have when you help them with even the littlest thing is so humbling."
Ongoing Needs
Volunteers and donations are an ongoing need at RST. Churches and community organizations are encouraged to attend orientations at RST and form welcome teams, which help one family from pre-arrival all the way through mentoring. Individuals can volunteer to pick up a family from their airport, help set up an apartment, become an ESL tutor, or collect donations. Monetary donations are always appreciated, as well as gift cards to large stores that can purchase work uniforms, school and household supplies.
"Do not judge a book by its cover," said Musekura. "These people bring many skills to this country. As we are friendly, help motivate and fully support them, they will fully support themselves in the end."
Visit rstx.org to learn more about Refugee Services of Texas, its programs, partnerships with churches, volunteer opportunities and more. RST provides services to hundreds of refugees, asylees, survivors of human trafficking, and related vulnerable populations from over 30 different countries of origin each year.
More information on the The Church of Jesus Christ of Latter-day Saints' refugee relief effort can be found at www.lds.org/refugees.