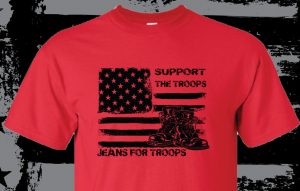 A Highland Village screen printing shop wants to honor the men and women who died defending our country by raising funds for military veterans and their families.
May 26th is Big Frog Dress Down Day, when local businesses and schools can take part in the 2017 Jeans For Troops fundraising drive benefiting the GI Go Fund, an nonprofit organization that helps veterans returning home find employment, go to college, access their health care and financial benefits, and link to housing.
During the drive, local businesses and schools will give their employees the opportunity to wear jeans to work in exchange for a $5 donation to the GI Go Fund. Big Frog Custom T-shirts will provide each donor with a special "Jeans For Troops" T-shirt to be worn on May 26th, 2017.
"This drive has grown from a movement to a tradition in our country," said GI Go Fund Executive Director Jack Fanous. "Our loyal supporters has grown exponentially over the years, with well over a million school teachers, government workers, and business employees alike standing together to lend a hand to their local veterans in need this Memorial Day. All of our participants are showing the true passion and love that all of us Americans have for our military men and women, and they are saying thank you to them the best way they can."
The GI Go Fund is an organization on the cutting edge of offering support to veterans, providing veterans with innovative ways of finding employment, securing their educational and health benefits, as well as providing aid and assistance to low income and homeless veterans.
Since their founding, the organization has helped tens of thousands of veterans improve their lives and give them the capacity to provide and care for their loved ones.
Proceeds from this program will go to help the organization further its mission for veterans, as the GI Go Fund will be working to continue supporting veterans in the local community obtain the funds and services they need to provide for their loved ones.
For more information about the GI Go Fund, or to see all the schools and business that are participating in the "Jeans For Troops" drive, visit www.gigofund.org.
For details on the local efforts to raise money for this cause, contact Big Frog Custom T-Shirts & More at 972-966-3764 or stop in at 3120 Justin Road, Suite A, Highland Village for a signup sheet.
Donations will be collected during the entire month of April and the shirts will be available starting May 22, 2017.