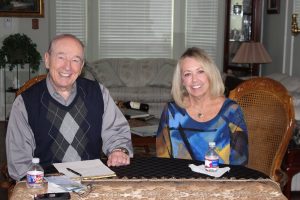 Glenn Garcelon was born and raised in Reading, Pennsylvania. After high school, he enlisted in the Army and served as a Morse Code interceptor in Germany.  Following his discharge, Glenn obtained his commercial pilot's license, and then attended college at Western Washington University in Bellingham, Washington.  He completed four years of college in 2 ½ years, graduating magna cum laude.  It was at a party while in college that he met Gail Higgins.  He knew he was in love when this petite, blond, young woman beat him fiercely and unabashedly in a brutal game of ping pong.  The two married in 1971 and started a family five years later, having two daughters, Nicole and Danielle.
Glenn dedicated his life to helping others.  He worked for the Federal Emergency Management Agency (FEMA) for 30 years, aiding victims of natural disasters.  He also held many volunteer positions: including reading books on tape for the blind, implementing a student/mentor reading program at a local elementary school and volunteering in a crisis call center and a hospital.  He regularly donated both blood and plasma and had plans to become a bone marrow donor prior to his illness.
He loved the beach, running, biking, baseball, Formula 1 car racing, jelly beans, good wine and music. But most of all, he loved his friends and his family. When Glenn retired from FEMA in 2001, he and Gail decided to relocate back to the Pacific Northwest, settling in Portland, Oregon.  Glenn took on some work as a consultant with FEMA, but enjoyed spending most of his time with his family and friends.
On the beautiful, warm Portland morning of September 4, 2004, while out for his daily run, Glenn suffered a seizure.  He was taken to a local hospital where it was determined that he had a golf ball-sized tumor on the left temporal lobe of his brain.  The tumor was a glioblastoma multiforme (GBM), the most common and most aggressive type of malignant brain tumor.
Glenn began treatment immediately at Oregon Health and Sciences University Hospital in Portland.  Surgery was not an option due to the location of the tumor, but he underwent a full round of radiation and monthly intra-arterial chemotherapy treatment for 26 months. He was also blessed to have nurse practitioners, residents and nurses who truly cared about him and what he was going through.  It made those days in the hospital much easier.
From the beginning Glenn's prognosis was not good.  He was given 9-18 months to live. Glenn defied those odds until an MRI in February, 2008 showed that, for the first time, the tumor had grown significantly.  Glenn made the decision at that time to not pursue further treatment and began hospice care at home.
He spent his final weeks with his family by his side, including his newborn grandson, whom Danielle so lovingly named Carson Glenn.  Nicole sat by his bed reading him his favorite book (Catch 22).  Danielle, an RN, lovingly tended to his needs.  Friends and extended family came from all over the country to visit and to share laughs and memories – and to say their final goodbyes.
He died peacefully in his sleep on April 5, 2008, with the knowledge that he was greatly loved by all who were fortunate enough to have known him. Glenn's final act of helping others was donating his body to the medical school at OHSU for training and research.  The Glenn Garcelon Foundation was started to empower and support brain tumor patients and their families.  The sixth annual Glenn Garcelon Foundation Golf Classic is being held on Sunday, April 2, at Tour 18 in Flower Mound.  For more info: www.glenngarcelonfoundation.org
Bob Weir is a former NYPD officer, long-time Flower Mound resident and former local newspaper editor.