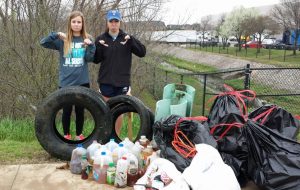 An annual rite of spring in Flower Mound is on the horizon.
KFMB (Keep Flower Mound Beautiful) Spring Trash Off and Environmental Health Fair is set for Saturday, April 1. The event is held in conjunction with the Don't Mess With Texas Trash Off and Great American Clean Up.
The trash collection event starts with registration at 8:30 a.m., in the Home Depot parking lot at 852 Long Prairie Road (FM 2499 and Lakeside Parkway).
Supplies are given to volunteers who are then sent to various areas in Flower Mound (parks, trails, creeks, roadways) to clean up trash/recyclables.
Volunteers then bring back their findings and KFMB provides lunch, giveaways (t-shirts to first 300 to register), door prizes, and prizes for the most trash collected and the most recyclables collected.
The Environmental Fair from 10 a.m. to 1 p.m. includes the opportunity to visit booths promoting positive environmental lifestyles (indoor and outdoor), such as: environmental sustainability; energy efficiency; composting and water conservation; gardening; native plant usage; healthy eating; and, exercise.
There will also be kid's activities: a climbing wall; an inflatable slide; plus a Home Depot kids' workshop.
Trinity Forks Chapter of the Native Plant Society's yearly native plant sale will be on-site, as well as a rain barrel sale and distribution.
Shred-It will be providing free document shredding to residents of Flower Mound; Best Buy will be collecting electronic waste– keeping it out of the landfill
Christian Community Action will be collecting gently used clothing and housewares and food for their pantry.
Ivy Rain Barrels are made in the USA using 100-percent recycled materials, they have a 50-gallon capacity, which is perfect for homeowners; feature a locking child-proof lid; are stable when full; and, are mosquito resistant. Deadline to order online is Sunday, March 26, 2017 at 11 p.m. The pickup is on Saturday, April 1, between 10 a.m. and 1 p.m.
The fair is open to everyone, whether participating in the Trash Event or not.
Become a booth vendor or sponsor by contacting the group at kfmb.org.
About KFMB 
Keep Flower Mound Beautiful (KFMB) was formed as a Town Council appointed Board in 2003. In 2005 the KFMB board approved bylaws for the organization and the Board successfully obtained non-profit status through the State of Texas.
The KFMB is managed by a Board of Directors consisting of seven members and two alternates.