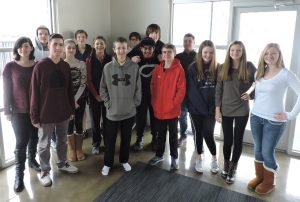 by Page Austin, Lifestyle Manager
Rooted in the idea of raising up the next generation of leaders and philanthropists, the Harvest Teen Council (HTC) is a partnership with the neighborhood teens to create more opportunities for engagement socially and to create positive change in their own backyards.
At the initial meeting, we had more than fifteen teens in attendance!  We casted the vision of what the HTC is and they took it from there! In fact, they wanted to establish roles and responsibilities and have elections for President, Vice President and Secretary. The teens elected the following: President: Jaxon Rait; Vice President: Hunter Parris; Secretary: Allison Long.
Following the elections, the HTC established goals for 2017.  They will:
Organize fun events for Harvest teens;
Learn about giving back to their community through their time, talent, and resources as they plan and execute Teen-Council sponsored fundraisers for the North Texas Food Bank;
Develop leadership skills and learn how to advocate and raise awareness about hunger in North Texas; and
Receive community service hours through their participation on the HTC.
To kick off the 2017 HTC, Northlake Mayor Pete Dewing joined the HTC for breakfast.  He challenged them to be more than just a club but rather change agents in their community.  He shared unique stories and articulated in a way that connected with teens in their season of life drawing on the importance of leadership and integrity. The teens had great questions for Mayor Dewing and he has some great advice for them such as:
Be honest
Be respectful
Be a good steward
Be advocates for the HTC and not for personal gain
Surround yourself with people who are smarter than you
He also talked about how important it is to work well with others.  You can learn something from everyone, for example how to treat people and how not to treat people. The main thing is to focus on your responsibility and do what is right at all times.
His final piece of wisdom was to not let your greatest accomplishments in school be your greatest accomplishments in life.
The first teen event was held on February 17 at the Harvest Hall. They wanted to hold a scary movie night/pizza party. We had more than 50 teens attend! This month, the HTC will hold their first philanthropic event, Hoops for Hunger. This will be a 3-on-3 basketball tournament where proceeds will benefit the North Texas Food Bank.
We are so proud of our Harvest teens and look forward to working with them over the next year!