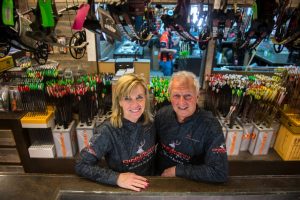 Tired of the brutal central New York winters and wanting to take a shot with their own business, Joe Musacchio and wife Nola came to North Texas 35 years ago to produce and sell something most native Texans had never seen—fresh Italian sausage.
The longtime Copper Canyon residents have turned their original sausage business into a highly-successful wild game processing and archery venue. After many years of owning three businesses in separate places, they now have consolidated to one location – Cinnamon Creek Ranch.
They bought the 80-acre spread east of Fort Worth Alliance Airport on the outskirts of Roanoke in 2008. At first it housed their wild game processing company. Then came an outdoor archery range and fully-stocked pro shop. In February they opened the latest part of the complex, an indoor event center that will have a big grand opening on March 18 hosted by the stars of Dude Perfect.
The event center allows Cinnamon Creek to host youth birthday parties and corporate outings. It can accommodate up to 120 shooters at a time. It even has rental bows which the Musacchios said other archery venues rarely if ever did, before they opened. There's also archery arcade games and, coming soon, an outdoor patio and fire pit.
While the DFW area has a number of archery clubs, Musacchio said none are as big or with as many amenities as Cinnamon Creek.
"When we opened the archery outside, some called it the Augusta of archery ranges," said Joe, referring to the famous Augusta National Country Club golf course in Georgia; home of The Masters.
It's a compliment the Musacchios could never have imagined when they first arrived here in 1982.
Joe was working for his Uncle Carmen Basilio, who owned Basilio's Buda Sausage, in their hometown of Canastota, New York, near Syracuse. When Joe decided he wanted to do something more, he began talking to his cousin John Bartholomew, a Flower Mound homebuilder who always brought back some sausage when he visited every summer.
"I asked him what he does with all the sausage he buys and he said 'there's a lot of people from up north down here and they can't get Italian sausage,' " Joe said.
"Finally he said 'why don't you come down here and check it out, because I think there's a market for it,' " Nola said. "So we opened Syracuse Sausage Company.
"When we moved to Texas, people here really didn't know what Italian sausage was. Mostly in Texas they had smoked sausages. We did both and still do both."
At the time, Syracuse Sausage Company was located on FM 2499 behind Salerno's in Flower Mound. Its first retail customer was Tom Thumb in 1983. The first commercial client was Romano's Macaroni Grill in 1986, which triggered a rush of food service clients.
Also fueling the growth was the 1985 launch of Syracuse Custom Meats to process wild game.
"We process anything people shoot," said Nola, pointing out the dozens of animal heads mounted on the walls of their office area. She estimates they have processed about 5,000 animals.
By 1992, they outgrew their Flower Mound space and moved both businesses to Ponder and the custom meats division to Keller in 1997.
"Everywhere we moved kept growing around us," Joe said. "We kept getting squeezed out. We needed to buy everything around us."
That's virtually what the Musacchios did at their present location, which is surrounded by plenty of open spaces (for now). They owned Syracuse Sausage, until selling it four years ago, after moving the wild game business to Roanoke.
What made the sausage and processed game experts decide to get into archery?
"We were both hunters and figured we had all this property," Joe said. "At the Keller property we had been shooting in the alley, which was not cool to do. So, we came over here and said 'we should set up an archery range like a golf course and have people come out and play in foursomes.' It was all golf-related to us, because we were golfers."
When researching the archery business and area shops, Joe found some of the old-time traditions and customs foreign to the way he wanted to do business. So he decided Cinnamon Creek would be different offering a broad array of equipment, including 500 bows made by more than 20 companies.
"He was determined to open a shop that was family-friendly, that anybody and everybody [can use]; if you're handicapped and in a wheelchair, it doesn't matter, everybody shoots," Nola said.
"We make the variety of equipment for people bigger than just one brand of bows," Joe said. "Being a golfer, you go to a place like Golf Galaxy and you see every golf club in the world is in there and you can hit anything you want.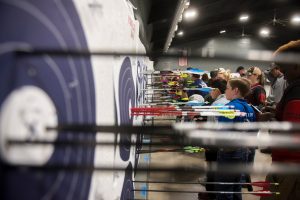 "It's the same way for people purchasing bows. It doesn't matter what you read about a golf club or a bow. It's never the same when you put it in your hand. It doesn't feel the same. There's just little things about it. Once you find a bow that fits you, 9 times out of 10 that's the last bow they buy."
You could say Cinnamon Creek is pioneering the archery business model.
"To me, I've always said archery is like bowling," he said. "You can do it at any age. It's the new bowling in America, because we were going after that smaller crowd of people on a broader base, where nobody wanted to go."
Like bowling, Cinnamon Creek has competitive leagues and teams that compete in events in local, area and state events. Also similar has been the influx of women who started coming into the facility in its second year. An increasing number of youth have followed making Cinnamon Creek a family recreational facility that's truly a family business.
Both of their children – daughter Kristy of Flower Mound and son Joey of Sachse – and many of their eight grandchildren – work at Cinnamon Creek.
The Musacchio's lived in Flower Mound from 1982 until 1986 when they moved into the Copper Canyon home where they still live.
Why have they remained in southern Denton County all these years?
"The friendliness of the people," Joe said. "We never experienced that coming from the North."
It's a feeling that has them wanting to live here forever.
"Two weeks after we moved here we looked at each other and said 'what took so long,' " Nola said.
"I always tell people when we got here I clicked my heels," Joe added. "I felt like Dorothy from the Wizard of Oz. I tell them never kick me out."