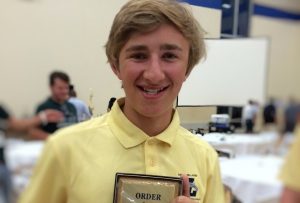 Clayton Odom has always had a fascination with how things work.
The Liberty Christian senior has enjoyed tinkering with things from the time he was a young boy and realized a few years back that he was actually pretty good at it.
"I do have a great interest in engineering and plan to study mechanical engineering [in college]," Odom said. "I've been building things such as potato canons, rockets and different gadgets my whole life. I always found interest in what makes things work and how I can take that and improve the design."
Odom, 17, is captain of the wrestling team at Liberty Christian, a member of the Science Olympiad, the National Honor Society, president of the German Club and a competitor in the Math Bowl and TAPPS Academics.
He is also an Eagle Scout and captain of the Solar Car Team; an organization he joined in his eighth-grade year at LCS.
"Solar Car is somewhere I found I could pursue my passions in technical problem solving and engineering," Odom said. "I have participated in five races, including a cross country race to Los Angeles and the Bridgestone World Solar Challenge across the continent of Australia. I had the honor of being the captain during this time and made many memories that will last a lifetime."
Odom is ranked ninth in his graduating class and carries a 4.3 grade point average.
He plans attend either The University of Texas at Austin, Texas A&M University, Colorado School of Mines, or Cal-Poly. He said Liberty Christian is a place where he has received great nurturing and support.
"The thing I think I will remember most about Liberty is the teachers and how involved they were," Odom said. "I will also remember the many good times I've had with my friends at Liberty or on Liberty trips."
Odom's Favorites
Favorite Food: Chicken Alfredo
The Person who most inspires me: Danny Odom, my father.
Favorite Movie: Star Wars series.
Favorite TV Show: Burn Notice.
Book I am currently reading: Command and Control by Eric Schlosser
Favorite Musical Group or Performer: The Rolling Stones.