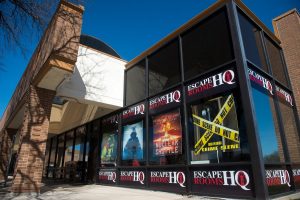 So, you're in a room with two to six people and you've been told you must disarm a nuclear weapon that's been hacked. Your tools? Your brain and a starting clue. Ready, set … start the countdown.
The Cross Timbers Gazette team of five faced that challenge in the Escape Room HQ (ERHQ) at 1565 W. Main Street, #495 in Lewisville. We felt good about our first group decision—we turned on the light; only 59 minutes remained in our countdown.
The Escape Room phenomenon started in Asia and hit the U.S. about five-years-ago through haunted house owners looking for a way to generate income the rest of the year.
Players search for hidden clues, solve cryptic puzzles and try to see if they have what it takes to escape disaster in under 60 minutes.
Imagine being in a real-life puzzle, video game or a board game like Clue, except it's a 360-degree tactile experience and players determine their own movements—some in a specific order, others in random order.
Each Escape Room has a game master to monitor the player's progress and provide clues upon request if the group gets stuck.
Escape rooms are cerebral entertainment for friends, families, a date night, corporate team building or church group outings. Individuals also play to gain "master points."
"The rooms are designed to challenge a team, whether it's corporate, family or strangers," said Linda Welch, one of the partner/owners of the Lewisville and Las Colinas facilities. "Not everybody has the same gifts or see the world in the same way. Individual strengths get highlighted in a new vision."
Previous team building exercises involved physical challenges– such as zip-lining, trust catches or rock-climbing—but that doesn't correlate with what people do in an office situation. Those challenges also disadvantage people who are older, not athletic or physically handicapped.
She pointed out that to create a successful business, the analytical thinking typical of accountants with the people-skills of sales people, as well as the strategic approach of some and the "think outside the box" of creatives are all needed; but may not overlap in the workplace.
"It's interesting to see how people get a different perspective about each other as individuals, rather than a job title," said Welch. "We have an 'after the challenge' meeting room for people to share their thoughts and a lot of ideas get shared."
In addition to being a significant way of team building for businesses, it's also a valuable way to develop relationships.
"Multi-generation groups are really fun," said Welch. "Whether it's a family, a social group or a corporate team, different generations think and see things differently.
"Baby Boomers communicate person-to-person, while younger kids don't have the same level of interpersonal skills; they sit across from each other at a table and text. On the flip-side, they view things in a digital way naturally that older people have had to learn. The different kinds of education and what and how people have been taught means that they solve problems in different ways."
Our Cross Timbers Gazette group had a shaky start, but actually managed to disarm the nuclear device with time to spare; although we had some additional "guidance" in addition to our three clues.
The Lewisville ERHQ opened in April 2016 and has already been named as a "Best Place to Meet New People."
The owners are Albert Welch, Henry Wall and Eli Lane, a former Army Ranger Intelligence Officer and undercover Grapevine Police Officer, who was the designer and builder of the Escape Rooms.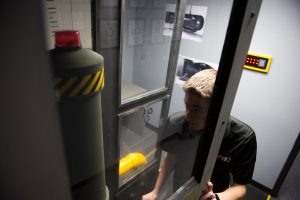 The themes are: Nuclear Shuttle—the second-shift crew of a cargo train must deactivate a top secret nuclear device on its way to a secret launch site in Nevada; Code Back-Slash—a team from Homeland Security must find hacker "RedEagle's" server and disable it before a virus will be uploaded into the systems of the New York Stock Exchange; Zero Dark Thirty—a team has completed its objective, but it only has 60-minutes to find a radio to call for extraction before a security sweep finds them; and, Crime Scene—a CSI team has only 30-miutes to process a murder before the suspects will all be released. This challenge can be also be done as two teams going head-to-head against each other in duplicate rooms.
With Spring Break around the corner, use the code "SPRINGBREAK" for 25-percent off a $30 ticket per person for a 60-minute challenge. Children from age seven to twelve must be accompanied by an adult and everyone under age 18 must have a waiver signed by a parent or adult chaperone.
The ERHQ staff can help book a single adventure or even arrange to rent the full facility for a large group for as long as needed. They can tailor an event package to a group's unique requests and it can include catering.
For more information, or to make a booking, call 469-312-8987 or visit escaperoomshq.com.