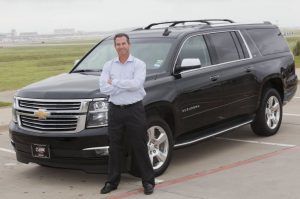 Life doesn't always follow a straight path. Bradley Zane of Flower Mound is a perfect example.
A biology major at Texas A&M, he worked in the investment field for seven years—most recently as managing director of small 401K plans for Fidelity Investments in Westlake.
Zane left the investment world to return to his interest in the medical field and enrolled to study phlebotomy at North Central Texas College. To bring in some income, he answered an ad to drive for Uber in December 2013. Soon thereafter, he joined Lyft. Listening to customers while driving for the two major on-demand transportation companies gave him the idea of what business to start.
Zane realized he had an entrepreneurial spirit. The result has been the increasingly-successful RushTrips Transportation, Inc. which specializes in pre-arranged travel, primarily for southern Denton County.
He has been transporting an average of 8-10 clients daily for a couple of years.
"Transportation for hire in Flower Mound, Lantana, Highland Village … the public isn't served very well," Zane said. "Cabs will tell you they'll be there in 35-45 minutes and they don't show up. There's no accountability and I recognized that through Uber and Lyft when I was driving for them."
About 70-percent of Zane's trips are between Dallas-Fort Worth International airport and clients' homes and businesses mostly early mornings and late afternoon-early evenings. The rest are limousine-style nights out for proms, bachelorette parties, sporting events and concerts.
Zane started with just his Toyota Highlander. More than 177,000 miles later, he upgraded to a Chevrolet Suburban and has now hired 13 independent subcontractors to help him with his growing enterprise.
"You get to talk to a lot of different people, many of whom have a lot in common," he said. "I pretty much have a lot of regulars that go out Monday morning and come back Thursday night. Their kids are going to school with my kids. We just have a lot in common. We just talk as friends, not really the hired help."
RushTrips features three service levels – standard (sedan or mid-sized SUV), executive (upscale limo-type vehicle like the Lincoln MKX, Cadillac CTS, or Chrysler 300); and executive SUV (like his Suburban). Fares are based on mileage ranging from $37-$47 for standard service, $52-$62 and $65-$75 for executive SUV trips to DFW Airport and more to Love Field and beyond.
Complete details are available at www.rushtrips.com.