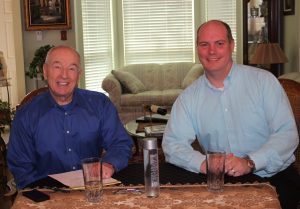 Well folks, we've come to the seventh and final candidate running in the Flower Mound Council election on May 6th. Councilman Jason Webb is running for re-election to his Place 1 seat.
Married with two children, the 42 year-old councilman is a 15-year resident of Flower Mound. His opponents, Prabu Jaganatan, and Cathy Strathmann were interviewed earlier this week. In the accompanying video, Mr. Webb talks about issues in our town. The following biographical info was sent by Mr. Webb:
Education: Bachelor of Arts in Government from the University of Texas at Austin and a Master of Divinity from Southwestern Baptist Theological Seminary in Fort Worth
Current Occupation: European Coordinator with Joshua Expeditions
Government Experience: 2016- Present – Elected to Flower Mound Town Council, Place 1
2016-Present – Animal Services Board Member
2015-2016 – Member of Board of Adjustments and the Oil and Gas Board of Appeals
Other Community Service
Former Associate Pastor of Singles and Recreation at Lakeland Baptist Church
Small Group and Connections Leader at Valley Creek Church
Children's Ministry Leader at Rockpointe Church
Member of the PTA at Forestwood Middle School and Flower Mound High School
Former Member of the PTA at Donald Elementary
Statement:
"I am proud that I have been able to serve the people of Flower Mound the last year as a member of Flower Mound Town Council.  I have attempted to represent the people well as we discuss the issues that our community faces.  We live in one of the most desired areas of the United States to live.  The area around us has greatly grown at a very quick rate.  With the tremendous growth in the DFW area Flower Mound has been unique in how we have managed our growth.
I am running for re-election to Town Council because Flower Mound deserves a representative who will continue to listen to all residents before making a decision.  We need representatives who will continue to hold the values of our residents when making decisions.  We need a representative who will continue to make decisions that are best for our entire community.
As a Council Member I have helped ensure we have the high quality in every new development.  I have helped maintain and increase our tree canopy through a strengthened tree ordinance. I have helped build up our community through supporting our new Parks and Trails Master Plan.  I have supported our fire fighters and police officers by making sure they have the resources to keep our community safe.
But, there is still more to do.  We need to find solutions for the increase in traffic in Flower Mound.  We need to continue to manage our growth responsibly and smartly. We need to continue to see Flower Mound as a desirable place to do business in order not to be a burden on our residents.  We need to continue to look at ways to bring more affordable senior housing into our community.  We need to continue to have a Council Member who treats all residents with honor, dignity, and respect.
As a representative I have and will serve the people of Flower Mound by always listening, always seeking understanding, and making wise decisions.  It is a promise I have made and a promise that I have kept as a Council Member."
Bob Weir is a former NYPD officer, long-time Flower Mound resident and former local newspaper editor.