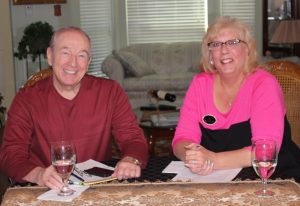 One of the many marvelous characteristics of our beautiful town is the willingness of the residents to become involved in its governance. With three Council seats up for reelection, we have four people running to replace them.
For Place 1 there are two challengers to Councilman Jason Webb; Cathy Strathmann and Prabu Jaganatan. Mr. Jaganatan was interviewed earlier this week. In the accompanying video, Cathy Strathmann tells residents why she decided to run. She also supplied the following bio:
"Cathy Strathmann is married and retired. She was born in a suburb of Chicago and moved to Flower Mound, Texas 1993. She has lived in the same house all 24 years. Cathy worked most of those years in Flower Mound as an office manager for local real estate agents. She's a former Board Member of The Mound Foundation, and a current member of 4-H Argyle, assisting kids with sewing for competition.
"Additionally, she is a board Member of ALSAC (Associates of the Lewisville Senior Activity Center), helping to raise money for seniors and for the program, Seniors Helping Seniors, which is LISD students teaching seniors new technology."
Ms. Strathmann wants residents to know that she is running an issue-based campaign.
Bob Weir is a former NYPD officer, long-time Flower Mound resident and former local newspaper editor.