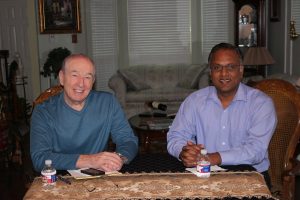 Another year and another Flower Mound Council race has begun, with three incumbents running for re-election, and four candidates running to unseat them. Councilman Jason Webb, running for reelection to Place 1, has two opponents; Cathy Strathmann and Prabakar "Prabu" Jaganatan. Ms. Strathmann and Mr. Webb will be interviewed later in the week. Mr. Jaganatan was the subject of the accompanying video. He supplied the following bio:
"Prabu, which is short for his first name, holds degrees in electronics and computers. He started working as a software consultant for various companies in India, Singapore and the USA.  Prabu's role was to build the organizations and empower to act for the change in the Business world. He has a track record of proposing multiple potential solutions for complex or new problems or processes and making objective recommendations as to which direction should be taken. Having an active commitment to continuous improvement and quality standards, he works hard to create a positive atmosphere that motivates others and builds team spirit, as a driven individual who wants to progress. Through his training and employment he learned the art of one-to-one relationship building and provided the tools to people to be effective advocates for themselves.
"Prabu, whose religious denomination is Hindu, first visited Flower Mound in 2011 for a short visit from California. Having never forgotten the beautiful and friendly town, Prabu returned in 2012 with his wife in search of a great community in which to work and raise a family, and it didn't take long for Prabu to regard Flower Mound as "home." Prabu and his Wife, Bindu Prabakar, have two daughters, Diya and Trisha Prabakar Once the couple moved into the Flower Mound neighborhood, Prabu became involved in local matters. He led grassroots efforts to advocate for the issues in the community with the help of an FM Radio Station. Prabu believes that a leader must have a vision, be collaborative, act as an ambassador for his community, and possess a strong resolve to get things done. He places a priority on having forward-thinking planning, a conservative budget, environmental stewardship, and excellent infrastructure, services and amenities. "Community service is a noble exercise of our freedom. A call for term limits, honesty in our leaders, and a 3 point plan to preserve, promote, and protect," he said.
"Drawing on his experience as a software professional, Prabu researches each issue in depth and is highly regarded for his ability to dissect a complex problem and find resolution among dissenting parties.  He values and enjoys positive, effective relationships with members of local and Business communities and works hard to find solutions through vision, leadership, and collaboration. Prabu is particularly interested in ensuring that new developments are upheld to high standards and that Flower Mound's remarkable network of amenities and services are extended to our newer neighborhoods. Prabu focuses on protecting the quality of our community with the hope that the work done today will ensure that Flower Mound is a premier place to live for future generations."
Bob Weir is a former NYPD officer, long-time Flower Mound resident and former local newspaper editor.