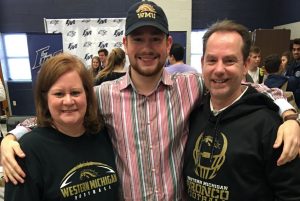 Flower Mound Jaguars kicker Josh Grant was recently named Texas High School Football's Special Teams Player of the Year and signed his National Letter of Intent with Western Michigan University.
Western Michigan is a NCAA Division 1 school that went undefeated in the regular season and earned a trip to the Cotton Bowl in January.
Grant said he has been humbled by the experiences.
"Being named 'Special Teams Player of the Year' was an awesome honor for me and my teammates and coaches who supported me and pushed me to be the best that I could be each and every day," he said.
Grant, ranked as the #1 Class of 2017 kicker in Texas by both Chris Sailer Kicking and Kornblue Kicking (#7/5 in the nation respectively) as well as a Dave Campbell's Texas Football Top 300 Recruit, was a first team all-district selection at kicker and punter for the Jaguars this season and an Academic All-State honorable mention.
"I am very excited for Josh," Flower Mound Football Coach Brian Basil said. "This is a well-deserved honor and is reflective of the hard work and passion that he has exhibited over his high school career.  Josh was an integral part of our team success this year."
The Flower Mound senior said that he chose Western Michigan for a couple of reasons.
"They were giving me an amazing opportunity," Grant said. "They are bringing me in as the starter my freshman year and starting for a major FBS (Football Bowl Subdivision) team for four years is an opportunity that I simply could not pass up. Also, the coaches and players were so welcoming and accepting of me and they really extended an interest in me joining their family."
Grant said his signing with WMU has been special for his family, friends and coaches and added that it has been especially important to his biggest fan.
"My grandpa, who is fighting a terrible disease called Acute Myeloid Leukemia, has been a huge motivation for me throughout this whole entire process," Grant said. "He has wanted nothing more than to see me play college football and succeed on the field. Hopefully, he will get to watch me when we kickoff against USC in the (Los Angeles Memorial) Coliseum next season."
Grant said he has a definite plan of attack when he gets to Western Michigan.
"My goals are to use my scholarship to not only further my athletic abilities, but also to grow academically and earn my degree in kinesiology," Grant said.
His career goal is to kick in the NFL and to use his undergraduate degree to become a physical therapist and open his own practice.