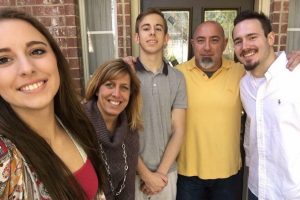 Nick Bacino is preparing for his second kidney transplant this spring.
More than a dozen years after his kidneys failed and his mother gave him one of hers, the recent Marcus High School graduate soon will have that one replaced, this time from his brother.
Thanks to a large support group of family and friends, Bacino, 18, should be able to live the life of a normal college student this fall after having to battle a rare form of cancer in between the two transplants.
His health concern began in 2003, at age 5, when he suffered from kidney failure. Just 10 days before Christmas, he received one of mom Meg's good kidneys.
He was problem-free until eighth-grade, when he contracted shingles. The strong antibiotic prescribed to battle that disease affected his kidney to the point when, in 2014, he learned that organ was failing.
His now 24-year-old brother, Tanner, is a match and they were ready to start the transplant process, but when Bacino came down with a swollen tonsil, which turned out being Post Transplant Lymphoma Disease or PTLD. The transplant had to be postponed for two years.
After undergoing four rounds of chemotherapy and three weekly dialysis procedures, he received the good news Feb. 13 that he was cancer-free and able to prepare for the transplant in May or June.
Yvonne Callahan, a Flower Mound Realtor, is friends with the Bacino family and wanted to help them with medical expenses so she, with the help of close friends, organized a Casino Night fundraiser at Lantana Golf Club on Saturday, March 4, from 7 to 11:30 p.m.
Tickets are $150 couple or $100 per person. Each guest will enjoy a Italian buffet dinner with one free cocktail and 50 in casino chips. There will be raffle prizes as well.
For more ticket information or to purchase tickets, contact Gina Oseguera at 817-715-1130 or Yvonne Callahan at 972-880-1616.
Read more about Nick and how you can help the family at helphopelive.org/campaign/165