A request for a site plan to develop a coffee shop launched Monday night's Flower Mound Planning and Zoning meeting; a seemingly innocuous agenda item and request.
The requestor, however, is self-proclaimed "serial entrepreneur" Mark Wattles, currently of Portland, Ore. A graduate of J.J. Pearce High School in Richardson, he's the founder of Hollywood Video, HomeAdvisor.com and owner of more than 40-restaurants on the east coast. He is now returning to his Texas childhood roots.
His new focus is to open a double-lane, drive-thru java joint called 151 Coffee to be located at 3341 Long Prairie Road, on the west side (southbound lanes) of FM 2499 between Churchill and Sagebrush. Currently, the property is a parking lot with a snow cone stand.
In effect, he plans to build a high-quality adult version of a kid's lemonade stand serving high-quality caffeine drinks.
"It [the building] will be 500-square feet and serve coffee only," said Wattles. "Food products won't work in this concept, because it slows things down."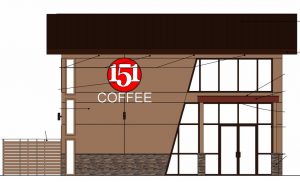 He pointed to the kiosk-type coffee buildings [like the One Hour Photo booths decades ago] in Oregon and Washington and how Howard Schultz (Starbucks CEO) took that idea and expanded it into a sit-down and chat cafe idea.
Wattles said that when he was expanding his Hollywood Video business, he and Schultz would exchange business expansion ideas.
When Starbucks added food a decade ago, its volume went up, but its transaction time went down. Now, Starbucks is adding drive-thru lanes to existing stores and is relocating some stores to accommodate drive-thrus. Wattles said he's not inventing anything new; just recreating a high-quality version of what worked back in the beginning.
"It's been 10-years since I've gone out and done a start-up like this," said Wattles. "The revenue forecast is $700,000– with 500 drinks served per day– and it's funded entirely by myself; so, it won't be a failure, because we won't run out of money."
Wattles plans to spend $600-per-foot (a $500,000 investment) on the building itself, although this first store won't be replicated elsewhere. He was told that the design for future 151 Coffee shops wouldn't meet Flower Mound standards. Any future stores will still have quality materials, just not town standards.
He said that signage will be limited to the one on the building and 151 Coffee will gain customers as commuters drive back and forth on FM 2499. He added that if that isn't enough exposure, he'll put on a coffee cup suit and stand on the curb.
"It'll be me," said Wattles. "I'll be operating the first store. I'll be out there watching the traffic; trying to figure this out. We will do some walk-up with some nice umbrellas and chairs on a concrete-paving patio area, but that's why there won't be any food service. I can't make money if people hang around for a couple of hours."
He said his goal is: "To serve as high a quality cup of coffee as quickly as possible (in less than 90-seconds) from a quality building, like you'd find in a high-end coffee café."
Wattles said he plans to open at 5 a.m., but isn't sure of a closing time. One of the reasons he chose Flower Mound to open his store was because he needed to locate close to a place he wanted to live, so he can be there to open at 5 a.m.
"If you want to meet an old entrepreneur doing the same thing he did in his 20's … drop by," he said with a laugh.
The folks at the Innovate Center should be aware there will be a new "big dog" entrepreneur coming to town.
The commissioners approved the request unanimously.
Lakeside Tower
Not as successful were the requests by developer Reality Capital Management involving the Lakeside Tower development—amending the exterior materials and allowing advertising signs on construction cranes to be lit at night.
The approved elevations for the 15-story condo tower indicated that stucco would be the primary exterior building material for the building. Reality Capital requested to substitute an Exterior Insulated Finish System (EIFS) for the majority of the stucco shown on the approved elevations. EIFS is a non-load bearing, exterior wall cladding system.
"The first three floors will have stucco, with floors above that through 15 as EIFS," said Alexander Brown, representing Realty Capital Management. "There's no monetary savings going from stucco to EIFS," said Brown.
Early generation EIFS material was a barrier system, but it has evolved over the years.
"Since 2009, the ICC (International Code Council) Codes and the U.S. Department of Energy found EIFS better than stucco for moisture control and it's LEEDS Certified," said Mike Boyd, a 40-year industry expert, of Boyd Consulting Group. "It was a barrier system, now it's a drainage system
"Back in the '80s and '90s, there was a big mold problem with EIFS, because there was no drain system," said P&Z Chair Claudio Forest. "That's no longer the case."
Another positive feature for using EIFS rather than stucco on upper floors is that stucco is heavier, which is a concern on a structure with so many floors resting on a slab foundation.
Commissioners recommended this request unanimously. However, permission to fly advertising signage on a construction crane and light it at night was not judged a request benefiting the town.
"The reason why we're asking for the signs is for marketing this unique property in a suburban setting," said Brown. "It will give us a visual [opportunity] for potential buyers. It will be able to be seen from a good distance off … from the Gaylord or even farther."
When asked, he said the building will be 200-feet tall and the sign would be 225-feet tall. The crane will be atop the tower from March through the early part of 2018. Once the construction is finished, it'll be gone.
The commissioners approved the crane sign, if the FAA approved it for height limit, for only the tower (building 153) at 901 Long Prairie, but no lighting will be allowed.
Other Business
Commissioners also unanimously approved a replat of Bank of the West property into two lots located north of Rippy Road and west of FM 2499. One lot will contain a 4,056-square-feet one-story Bank of the West branch building; the other lot has no plans at present.
The request for rezoning to amend the Timber Creek Medical Office Plaza to include an added .745-acres on its northwestern corner, plus exceptions and modifications to the Code of Ordinances—retaining overhead power lines, roof pitch and set-back alteration– was also unanimously approved.
The Plaza's 22.3-acres are directly north of Texas Health Presbyterian Hospital of Flower Mound and is bisected by West Windsor. Three buildings with a total of 106,885-square-feet will surround the center plaza area: 19,800-square-feet for restaurant space; 27,085-square-feet of retail; and, 60,000-square-feet for medical use.
In addition, the planned development will add 318 parking spaces for hospital expansion; not for use by The River Walk. It will not be used to satisfy the parking needs of the Courtyard by Marriott hotel.
In addition, Parks and Recreation Director Chuck Jennings introduced the more than 12-months work to update the current Parks, Recreation and Open Space Master Plan for the next 10 years.
Mike Svetz of Pros Consulting reviewed the status of a Master Plan amendment replacing Section 5.0, with a new Section 5.0 and adopting the 2017 Parks, Recreation and Open Space Master Plan Update.
The new Master Plan will be an agenda item on the March 6 Town Council meeting.